Beverage Brands Lead IRI's Pacesetters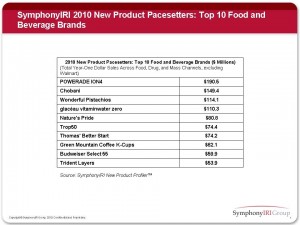 Led by POWERADE ION4 and vitaminwater zero, beverages comprised five of the top ten "New Product Pacesetters" of 2010 in a recent report published by SymphonyIRI.  The report, themed "Innovating Growth in a Down Economy," noted the success of manufacturers to take advantage of evolving consumer trends and drive market growth, in spite of ongoing economic and market challenges.
"The manufacturers of these brands …invested to understand the roles their products could play in helping consumers navigate difficult financial waters, and they used that knowledge to develop and deliver powerful new products that are filling those roles quite nicely," said Larry Levin, executive vice president, Consumer Insights, SymphonyIRI.
Finding importance among consumers for health, wellness and at-home consumption, the list also includes Trop50, Budweiser Select 55, and Green Mountain Coffee K-Cups.  And – excluding sales figures from Wal-Mart – the five beverages on the list generated nearly half a billion dollars in sales in 2010, vastly outperforming notable trends seen in previous years.