BevNET Live Summer 11: Live Video Stream Announced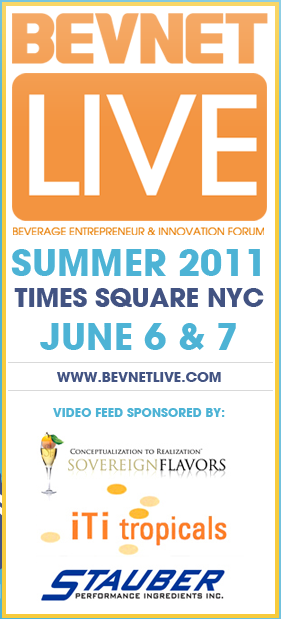 Following the announcement of its fifth consecutive sold-out BevNET Live conference, BevNET.com is pleased to announce the return of a free, live video stream which will be broadcast from the event on June 6 & 7.
Live video of selected sessions will be streamed throughout the day; Sessions run from 8:45 AM to 3:30PM on Monday, June 6 and from 8:45AM to 5:00PM on Tuesday, June 7. Check  BevNET.com on those days to see which sessions are streamed.  Also being streamed is the first ever "New Beverage Showdown," which takes place throughout the day on June 7.
"The video feed doesn't replace the amazing networking and learning opportunities at BevNET Live, but the video gives those who couldn't attend a chance to enjoy some of the great content and speakers that the event will feature," stated John Craven, founder and CEO of BevNET.com.  "And we're seeing many people who have watched the live video feeds come in person to subsequent BevNET Live events."
BevNET Live Summer 11 will cover a variety of key topics, including the state of the industry, financing, distribution, marketing, and product development. The lineup features a variety of executives from today's leading beverage companies — big and small — including Coca-Cola VEB, Pepsi, Vita Coco, ZICO, Bolthouse, Lifeway, and Tata.  It will also feature executives from retailers, including Target and GNC, distributors, and investment firms. A full program and speaker details can be found at http://www.bevnetlive.com
To view the live video: Visit http://www.bevnet.com on June 6th and 7th for further details and instructions.
About BevNET.com
BevNET.com is the leading beverage-oriented media company, producing a web site, print magazine, and live conference series. The company was founded in 1996 by John Craven, with its mission to offer, through products in a variety of media, the best, most comprehensive forum for news coverage, expertise, partnership and support for all members of the beverage community.
BevNET Live is BevNET.com's semi-annual live conference series designed specifically for entrepreneurs and innovators in the beverage industry. With the help of carefully-chosen speakers and experts, BevNET Live offers presentations, panels and discussions that feature up-to-the-minute analysis of retail categories, investment prospects and distribution strategies, as well as case studies in how successful brands are solving the problems of growth in a competitive environment.