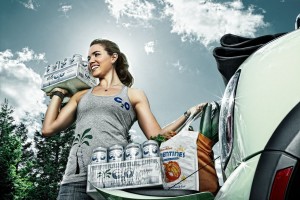 Long Beach, CA (December 12, 2011) — C2O Pure Coconut Water LLC has recruited 11-time medalist swimmer Natalie Coughlin as their spokesperson for the brand through 2011. The relationship was started when C2O learned of Natalie Coughlin's belief in the naturally hydrating properties of coconut water to supplement her training for competitive swimming.
As a huge proponent of natural foods, Natalie Coughlin says she enjoys cooking and leading a healthy lifestyle, believing that vitamins and minerals should come from whole fruits and vegetables instead of supplements. With naturally occurring electrolytes, C2O Pure Coconut Water is a perfect fit for Natalie. Her Vallejo, Calif. home is likewise complete with a full vegetable garden, free roaming chickens for their eggs, and of course an ongoing supply of all-natural coconut water.
C2O Pure Coconut Water is preservative free, fat free, gluten free, and naturally body-balanced in terms of isotonics and pH levels. Coconut water provides 18 of 20 amino acids and has a low Glycemic Index of 35. In short, C2O provides hydration for world-class athletes like Natalie Coughlin (who is currently ramping up training for upcoming competitive events for Summer 2012) and as well for those who just like feeling hydrated and in top condition overall.
"C2O is super healthy and a delicious way to stay hydrated. I just can't get enough," tweeted Natalie.
About C2O Pure Coconut Water LLC
C2O Pure Coconut Water LLC is based out of Long Beach, California and C2O is sold at natural and health foods stores nationwide, as well as online at Amazon.com.
To learn more, visit our website at www.c2o-cocowater.com and follow us on Facebook and twitter for ongoing updates.