Download BevNET's 2011 Natural Products Expo West Show Planner
It's time for New Hope Natural Media's 31st annual Expo West show co-located with SupplyExpo held at the Anaheim Convention Center. Expo West along with its sister show Expo East, are the leading venues to see and sample all-natural and organic products. As always, BevNET.com will be on hand to cover and report on the beverage-related exhibitors at the show – over 120 in total this year.
WHEN: March 10-13, 2011
WHERE: Anaheim Convention Center, Anaheim, CA
WHO: Brokers, Distributors, Importers & Exporters and Retailers
WHY: Product demonstrations and samples, educational seminars, workshops, and special events.
EXHIBITION FLOOR SHOW HOURS:
Friday, March 11:             10:00 am – 6:00 pm
Saturday, March 12:       10:00 am – 6:00 pm
Sunday, March 13:          10:00 am – 4:00 pm
Below, you'll find details about the show, listings of beverage exhibitors (supplied by New Hope Natural Media), and BevNET's print-ready show planner.
Download Your Print-Ready Show Planner Here (PDF)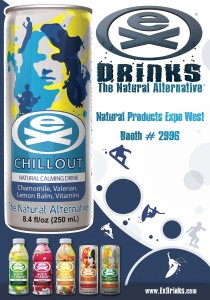 Ex Drinks, LLC (Booth #2996) is the sponsor of BevNET's Expo West show coverage. A beneficial beverage company specializing in the manufacturing, marketing and sales of a growing family of natural, great-tasting drinks – with a passion to provide consumers with the best products to support healthier choices and active lifestyles. Ex Drinks is dedicated to creating positive change while seeking new ways to enhance lives locally and globally. Their mission is "To Create Positive Change…One Ex, One Person, One Community at a time." The vision of Ex Drinks is to prosper as a mindful company built on quality. Ex Drinks is committed to operating in the new business paradigm based on the triple bottom line: People, Planet, Profit. For more information, please visit them at www.ExDrinks.com or call (702) 949-6555.
| | |
| --- | --- |
| Company | Booth # |
| Activate Drinks | 4723 |
| Adagio Teas | 2105 |
| Ajmera Innovations Inc. | 5574 |
| AMA Waters, LLC | 5092 |
| Aquasana | 4178 |
| Argo Tea | 5588 |
| Avitae Caffeinated Water | 5098 |
| B.R.A.T. Diet LLC | 2100 |
| Bai Brands, LLC | 5137 |
| Bazi International, Inc. | 5034 |
| Blue Monkey Coconut | 5272 |
| Bolthouse Farms | 3756 |
| Borojo Beverages, LLC | 5107 |
| Bossa Nova Superfruit Co. | 3957 |
| Brain Toniq | 4288 |
| BrandStorm, Inc. | 2777 |
| BYB Brands, Inc. | 5281 |
| Cal Naturale | 2532 |
| Celsius, Inc. | 1410 |
| Century Foods International | 1249 |
| Ceres Juices | 2765 |
| CherryPharm | 5772 |
| China Mist Brands | 5265 |
| Coba | 5053 |
| DD Beverage Co.-Good4U Drinks | 5471 |
| Destiny Deep SeaWater LLC | 5293 |
| Dox Cardio Water | 5271 |
| Dream Foods International | 2810 |
| Echo Beverages | 5430 |
| Essentia Water, Inc. | 3774 |
| EVERGREEN Juices Inc. | 3950 |
| Evolution Fresh | 4186 |
| Ex Drinks LLC | 2996 |
| Fentimans North America | 5877 |
| Fresh Ginger Ale by Bruce Cost | 2799A |
| Good Karma Beverage, Inc. | 5429 |
| Goodbelly by Nextfoods | 2358 |
| Guayakí Yerba Maté | 2918 |
| GURU Energy | 2135 |
| h20 Spring Water | 2699 |
| H2Om-Water with Intention | 3688 |
| Hansen Beverage Company | 2036 |
| Harney & Sons Tea Co | 4048 |
| Hawaiian Springs, LLC | 3779 |
| Herbal Water/Ayala's Herbal Water | 2966 |
| Hiball | 4827 |
| Hint, Inc | 3484 |
| Honest Tea | 3991 |
| Honeydrop Beverages | 5198 |
| I AM | 2033 |
| In Zone Brands | 5465 |
| Inko's White Tea | 2253 |
| ITO EN, LTD. | 3468 |
| IZZE Beverage Company | 3778 |
| Kiwaii True Spring Water | 5112 |
| Kombucha Wonder Drink | 4449 |
| KOR Water | 3371 |
| KonaRed | 5119 |
| Lakewood Organic Juices (aka Florida Bottling) | 2627 |
| LAMMSBRAU | 2005 |
| Liberty Richter | 2684 |
| Lifeway Foods, Inc. | 3556 |
| Lo-Glycemic Juice | 5155 |
| Maayan LLC | 5440 |
| Maine Root Handcrafted Beverages | 4372 |
| Market Connections Group | 3783 |
| Marley Beverages LLC | 5274 |
| Mix1 | 2045 |
| Mountain Valley Spring Co. | 4839 |
| Naked Juice | 3838 |
| Nawgan Products, LLC | 5510 |
| NBI Juiceworks | 3679 |
| New Dutch Water Corp. | 5075 |
| NOYU Teas/Vivaloe Aloe | 5593 |
| Numi Organic Tea | 2817 |
| O.N.E. One Natural Experience | 2585 |
| Odwalla, Inc. | 2646 |
| OKF Corporation | 3648 |
| Olade | 2016 |
| Oregon Chai c/o Kerry Food & Beverage | 3852 |
| Orgain | 2227 |
| Pacific Natural Foods | 2654 |
| Penta Water | 2256 |
| POM Wonderful | 4174 |
| Prometheus Springs, LLC | 5441 |
| Protica Nutritional Research | 1273 |
| PurBlu Beverages, Inc. | 4826 |
| Pure Swiss Inc. | 5179 |
| Q Tonic | 5017 |
| Quaker-Tropicana (QTG Sales) | 2746 |
| Raw Foods International, LLC | 5674 |
| Rebootizer | 5954 |
| Republic of Tea, The | 3846 |
| Rob's Really Good | 3118 |
| Rock Humanity | 5195 |
| Royal Pacific Foods/The Ginger People | 4822 |
| Sambazon | 2906 |
| Silk | 2136 |
| Simply Orange | 3772 |
| Smart Juices LLC | 2818 |
| Sol Elixirs LLC | 4832 |
| Soma Beverage Company | 3965 |
| SPI West Port, Inc. | 5756 |
| Steaz | 2909 |
| Stirrings | 5863 |
| Summit Spring Water | 5582 |
| SunOpta Inc. | 2242 |
| Sunsweet Naturals | 4156 |
| Sweet Leaf Tea | 2904 |
| Switch Beverage Company | 2369 |
| Taste Nirvana Int'l Inc. | 5479 |
| Taylor's Tonics | 5200 |
| Thomas Kemper Soda Co. | 5231 |
| U Natural Hydration | 5524 |
| Uncle Matt's Organic, Inc. | 2800 |
| Vibranz, Inc. | 5301 |
| Vita Coco – All Market | 4565 |
| Waialua Soda Works | 4837 |
| WAT-AAH! | 5350 |
| Wyman's | 2387 |
| Xing Tea-Aspen Pure | 5759 |
| Yakult USA | 4280 |
| Zevia LLC | 4679 |
| Zico LLC | 4375 |
| Zola Brazilian Superfruits | 2813 |