National Consumers' League Complains to FTC about vitaminwater Ads
You decide. Is THIS: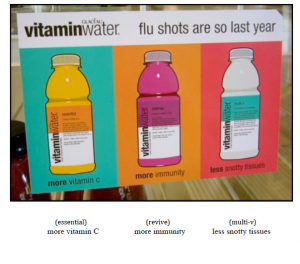 A) Yet another example of the wickedly snarky POS materials that have helped propel vitaminwater to the forefront of the enhanced water category?
OR
B) The product of a lying P.O.S. intent on endangering consumer health to sell sugar water?
If you picked "B" then the National Consumer League agrees with you. Here's a letter the consumer group recently sent to the FTC, complaining that this kind of campaign encourages consumers to forgo flu shots and other healthy practices in favor of vitaminwater.