Red Bull Expands Publication of The Red Bulletin to U.S.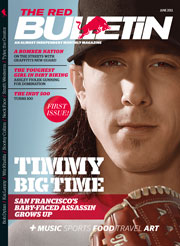 Already published in nine other countries including Germany and Great Britain, Red Bull has expanded publication of its lifestyle magazine, The Red Bulletin, to the United States.
As reported by USA Today, the first issue will debut in June and feature a profile of San Francisco Giants pitcher Tim Lincecum. The magazine – targeted at 18- to 34-year-olds – will have an initial circulation of 1.2 million and will be sold by subscription and in newsstands throughout the county. However, a majority of the copies will be distributed as monthly inserts in the Sunday editions of five major city newspapers, including the New York Daily News and the Los Angeles Times.
According to Raymond Roker, associate publisher of The Red Bulletin, Red Bull hopes the magazine will allow the company to "have a rich conversation with our audience."