Video: Trends at Expo West 2011
With more than 130 beverage companies buying booth space, and a few dozen more tramping the aisles, Natural Products Expo West provided a near-comprehensive look at the way entrepreneurial beverage brands are growing, and also served to underscore the vital nature of the natural channel when it comes to introducing new products. Even brands not necessarily considered "natural," like FRS and Activate, took up booths to battle channel stalwarts like gourmet juices, full-leaf teas, and coconut waters for retail buyers' attentions.
As BevNET waded through new product introductions and changes in marketing strategies, some themes began to emerge: new superfruits, gut health, the use of hot products like cocoa or coconut water as ingredients, and other important trends are discussed in the following video.
Please note: A video tour of beverage booths will be posted on our site tomorrow…stay tuned.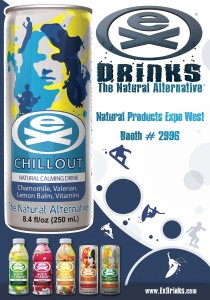 Ex Drinks, LLC is the sponsor of BevNET's Expo West show coverage. A beneficial beverage company specializing in the manufacturing, marketing and sales of a growing family of natural, great-tasting drinks – with a passion to provide consumers with the best products to support healthier choices and active lifestyles. Ex Drinks is dedicated to creating positive change while seeking new ways to enhance lives locally and globally. Their mission is "To Create Positive Change…One Ex, One Person, One Community at a time." The vision of Ex Drinks is to prosper as a mindful company built on quality. Ex Drinks is committed to operating in the new business paradigm based on the triple bottom line: People, Planet, Profit. For more information, please visit them at www.ExDrinks.com or call (702) 949-6555.