Core Power Enters Coke System; VEB Investment on Tap?
Keep a close eye on this one, folks: Coca-Cola Refreshments is picking up Core Power, a milk-based protein drink manufactured with the product of two large dairy co-ops based in West Texas, New Mexico, and the Midwest.
Core Power — owned by parent company Fair Oaks Farms Brands, Inc., which operates out of a 30-person office in Chicago — is run by former Coca-Cola Co. CMO Steve Jones, best known as the man who helped tie Coke to the hit television phenomenon "American Idol."
Core Power, which is lactose-free and boasts between 20 and 26 grams of whey protein in 11.5 oz. bottles, is shelf-stable, giving it the potential to sit for up to nine months without going bad. The 5-SKU product employs monkfruit and stevia in a 150-calorie version that has 20 grams of protein, while the full-calorie version can hit 240 calories and 25 g of protein.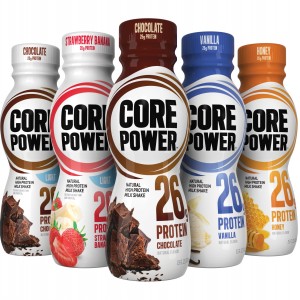 Long range plans are to take Core Power national, according to the company. The initial plan, beginning in July, is for CCR to take over the bulk of the distribution of Core Power in Texas and Colorado, as well as Ohio, Indiana, Michigan, and Chicago. CCR will also run the product into chain grocery and other large-format stores in Arizona and Central California all the way to San Diego.
Beyond that, however, two well-placed sources within Coke indicate that Core Power is a likely target as the next outside investment from the company's Venturing and Emerging Brands Group, which is charged with helping develop entrepreneurial companies into potential "billion dollar brands." Publicly, the group doesn't discuss its investment strategy, but Jones has strong boosters within the organization; VEB President Deryck van Rensburg even went so far as to comment on the distribution arrangement in the press release that announced it, calling the brand "part of an exciting category for consumers and retailers that is still in the early stage of its growth potential."
The release even goes so far as to say that van Rensburg views the arrangement as a great example of how Coke joins in helping to develop new, next-generation beverage brands.
The plan for the product is to go with supermarket and large-format chains through the end of the year, at which point the brand will start to look to convenience and other potential retail channels, according to Anders Porter, who is the spokesman for Fair Oaks Farms Brands.
The brand grew out of an opportunity fostered by the capacity of the 87 family-owned farms in the two co-ops, Select Milk Producers and Continental Dairy Products. Jones was working as head of a product development role at Select Milk Producers until last year, when he suggested rearranging the corporate structure to create a new product line based around the growing awareness of whey protein.
The market would seem right for a protein-based workout drink that contains real milk; constant studies have cited the "Chocolate Milk Experiment" conducted several years ago at an Indiana University that indicated that the 4-1 carbohydrate-to-protein ratio in chocolate milk made it an ideal beverage for recovery following athletic exertion, while other brands, notably Muscle Milk, which has been distributed by PepsiCo for three years, have built out large shares of the market via a mix of retailers that include gyms, supplement-focused stores like GNC, and traditional convenience and supermarket accounts. Muscle Milk, made by Cytosport, has long been considered a potential acquisition target by one of the large strategic buyers in the beverage space but has been hampered to some extent by potential regulatory issues over its name, as it doesn't contain milk, and changes to that name could hurt brand equity.
Core Power, meanwhile, was originally marketed as Athletes HoneyMilk in its first Texas and Colorado markets, but that brand was phased out in 2011, redeveloped in a new package with a Chicago-based design firm. As a big part of that rebranding, the product moved from Tetra-Pak to PET.
For a brand that has largely been sampled at athletic events, there isn't yet a strong tie-in to places like GNC or the Vitamin Shoppe for Core Power, although it is carried by Lifetime Fitness, which has 105 gyms in the U.S. and Canada.
The product has a base of athletic endorsers including triathletes Craig Alexander and Laura Bennett. It would represent one of Coke's first steps into working with dairy; it has also marketed Vio, a dairy-based carbonated drink, in the U.S., although to little impact.