Exclusive Beverage Segues from Vita Coco to Foco
Long the manufacturer of an imported brand of canned, sweetened coconut juice, Foco, a Thailand-based company that sells largely to ethnic markets in the U.S., has debuted an all-natural, unsweetened coconut water in PET packaging — and it is working with Exclusive Beverage, one of the chief builders of the category in Manhattan, as its distributor.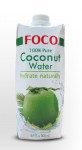 Foco, which has sold its coconut juice as a largely ethnic-focused, canned item up and down the East Coast of the U.S. for nearly 25 years, has purchased a factory and farmland in Vietnam to help facilitate the growth of the brand, which will be imported via Brooklyn-based Vasinee Foods; broker Robert D'Amico is serving as the master distributor for the beverage.
Exclusive's founder, Steve Gress, said the brand's familiarity with coconut water as a product was one of the key reasons he brought it on board as a replacement for Vita Coco, which bought him out of his contract last year following the category leader's move into Dr Pepper Snapple distribution.
"They were one of the first to work with coconuts," Gress said. "They've been around for more than 20 years."
"We have nearly a fully vertical supply line," D'Amico said, adding that the company is purchasing its Tetra Pak containers and filling in Vietnam before importing the product.
Foco will debut in a natural, unflavored 500 ml resealable box, and will be followed by four flavors in August; in the fall the company plans to introduce a 1 L size.
According to Gress, the packaging type is a key to helping him introduce the line.
"I know my competition extremely well," he said, referring to the years in which he helped distribute Vita Coco in Manhattan. "There's a ton of coconut waters out there, but not a lot in Tetra Pak. Vita Coco and Zico built the category, and they built it in Tetra — that's the way people think about the product."