PepsiCo Assembling New Innovation Team
PepsiCo tipped its hand on its innovation plans today, advertising for a position on a still-forming team designed to work with emerging beverages out of its Naked Juice offices near Los Angeles.
The Beverage Growth Ventures team would create a Pepsi-owned, California-based rival to Coca-Cola's older Venturing and Emerging Brands (VEB) group, which runs out of Atlanta. It would also signal the first cohesive step by PepsiCo to create a business entity focused solely on incubating a portfolio of disruptive emerging brands.
The Beverage Growth Ventures team will be led by Chris Lansing, the General Manager of its Naked Juice and Izze division, BevNET has learned. Naked/Izze operates as a separate, West Coast entity, although it is owned by PepsiCo.
The hard-wiring of the project began to move forward under new Pepsi Americas Beverages CEO Al Carey, who took over for Massimo d'Amore in September. Naked had been suggested previously as a potential focus for new beverage innovation by d'Amore, who retired earlier.
While it is clear that the Beverage Growth Ventures group is expected to create or assemble a new portfolio of emerging brands, for now its current holdings seems to encompass Naked's current lineup:  Naked Juice, Naked Coconut water and Izze, although that portfolio "will expand to include new brands and categories," according to the recently posted job description, which is for a VP of Go-To-Market.
Conspicuously absent from that portfolio is O.N.E. coconut water, another product that is frequently pointed to as an example of Pepsi's willingness to help grow emerging brands. PepsiCo owns a controlling interest of O.N.E. coconut water as well, although that company currently functions independently.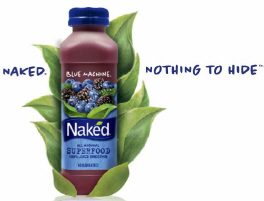 It is not yet clear if the new entity will focus on growing its portfolio through partnership with existing brands or new brand development.  But what is clear is that Pepsi and its Naked subsidiary have been surveying the market carefully as they began to move forward with a concrete plan for a venture-oriented entity.
Over the past few months, Lansing and other members of PepsiCo's senior beverage leadership team  have met with a number of entrepreneurial beverage companies — as well as potential distribution and financing partners. The company has also begun creating a leadership structure and a 40-plus person team that encompasses supply chain, sales and marketing and other key functions.
In addition to small beverage companies, executives have also met with potential route-to-market partners as well as investment advisors as they attempt to formulate a cohesive strategy for investing, growing, and distributing those brands. PepsiCo has shown a willingness to work with third parties in the past, as it bought into O.N.E. at the same time as an investor group headed by Catterton Partners.
As an entity, Naked may indeed be an ideal home for emerging brands within PepsiCo. It has developed its own hybrid distribution network in the years since its acquisition from North Castle Partners in 2006. In the past two years, Naked has managed to grab share in the fast-growing fresh juice category despite the emergence of Bolthouse Farms and stiff competition from Odwalla. Both Naked and Izze are brands that PepsiCo acquired outright.
Naked's route to market is a hybrid combination of DSD and warehouse services that would allow some of the distribution flexibility that is needed to incubate a growing brand, according to a source in the Pepsi organization.
The help wanted ad, which was for a Vice President of Go-To-Market,  says the new hire will serve as a "critical member" of the team "developing and executing business strategies that will bring smaller current and future brands to market using diverse supply chain options…. There brands require incubation/nurturing to prove out their full potential and a spectrum of approaches will be required including their route to market."
With the exception of O.N.E., in recent years the Pepsi organization has preferred to partner with growing beverage brands on a distribution basis only, taking products like FRS, Muscle Milk and Rockstar Energy Drinks onto its trucks. But that lack of willingness to write a check now seems to be changing.
The Coca-Cola Co., Inc. has had a similar operation, the Venturing and Emerging Brands (VEB) group in place for several years, investing in companies like Honest Tea and ZICO while also attempting to grow other brands from the company's global portfolio and from other partner companies.
For a short time Pepsi Bottling Group ran an incubation unit of its own, Learning Labs, that centered largely around testing the distribution of emerging coconut water brand O.N.E. in specific geographic areas, but since the takeover of PBG by its parent company two years ago that project has been much quieter. O.N.E. itself has been in a period of transition, with co-founders Rodrigo and Emilie Frits Veloso leaving the day-to-day operation and moving to Florida in March.