2013 Summer Fancy Food Show – Beverage Exhibitor List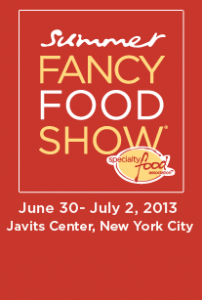 The 2013 Summer Fancy Food Show begins this Sunday in New York City. The show is North America's largest exhibition for specialty, natural, and gourmet foods and beverages, and BevNET.com will be on hand to report on news and innovation from beverage-related exhibitors at the show.
WHEN: June  30 – July 2, 2013
WHERE: Jacob Javits Center, New York, N.Y.
WHO: Brokers, Distributors, Retailers, Importers & Exporters
WHY: Product demonstrations and samples, educational seminars, workshops, and special events.
EXHIBITION FLOOR SHOW HOURS:
Sunday, June 30:  10:00 am – 5:00 pm
Monday, July 1: 10:00 am – 5:00 pm
Tuesday, July 2: 10:00 am – 4:00 pm
To help you navigate the massive show floor, we've compiled a handy list of the nearly 60 beverage companies that will be exhibiting at the event.
| | |
| --- | --- |
| Company | Booth |
| Activate Drinks Inc. | 4178 |
| Aliseo Foods | 4207 |
| Andes Mountain Water | 1322 |
| Bberri Juices | 1326 |
| BLK Enterprises | 4106 |
| Brands of Britain LLC | 2048 |
| Brands Within Reach | 5163 |
| Bruce Cost Ginger Ale | 954 |
| BRUNI GLASS PACKAGING INC | 4101 |
| Ceres Fruit Juices | 4516 |
| Cheribundi | 5147 |
| Chobani | 5217 |
| Christmas Milk | 5338 |
| City Bakery Hot Chocolate | 5215 |
| Demitri's Gourmet Mixes | 4408 |
| Dimes Fruit Juices | 1713 |
| Epicurean Beverages | 1356 |
| Eurobrew | 726 |
| Eurobubblies | 726 |
| European Imports,Inc. | 1436 |
| FOCO Coconut Water | 5337 |
| Found Beverage Company | 5537 |
| Grace Foods | 3312 |
| GUS – GROWN-UP SODA | 4550 |
| HARNEY & SONS TEA COMPANY | 540 |
| HERBAL WATER, INC. | 745 |
| Hiball | 3058 |
| HINT, INC. | 4444 |
| HONEST TEA, INC. | 2744 |
| Icebox Water | 2253 |
| Indian River Select, LLC |  5305B |
| ITO EN (North America)INC. | 4450 |
| Japan Greentea Co | 120 |
| Joe Tea & Joe Chips | 4947 |
| Kobu Beverages |  4728A |
| LIBERTY RICHTER | 1636 |
| Liv | 3233 |
| Lorina Inc | 931 |
| Luke's Heirloom Tomato Juice | 5005 |
| MANHATTAN SPECIAL BOTTLING COM | 2145 |
| Mountain Valley Spring Company | 4506 |
| OatWorks | 5609 |
| OKF Corporation | 411 |
| Old World Gourmet | 2046 |
| P&H Soda Co., Inc. | 4730B |
| Powell & Mahoney | 4803 |
| Pure Bio Products | 1432 |
| Purity Organic | 255 |
| Q Tonic | 3066 |
| RealBeanz | 2269 |
| ROYAL PACIFIC FOODS | 2467 |
| Runa | 5422 |
| SIPP eco beverage co. LLC | 3870 |
| Spindrift | 4815 |
| Tropical Breeze Beverages | 4758 |
| Ubons Sauce LLC | 4642 |
| United Juice Companies of America | 4766 |