Honest Tea Looks to Make a Splash With New Kids Line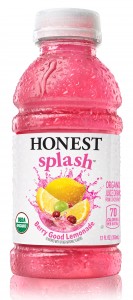 Extending its reach in the kids' beverage category, Honest Tea has introduced Honest Splash, a new line of 70-calorie juice drinks. In a statement, Honest Tea called the products an "evolution of the Honest Kids brand" that is designed for older children. Honest Splash will be sold exclusively at Target from mid-March until the end of June, when the drinks will roll out to other retailers.
Packaged in 12 oz. resealable plastic bottles, Honest Splash contains 30-31 percent juice and, like Honest Kids, is sweetened with organic fruit juice as opposed to added sugar. Honest Splash comes in three varieties – Berry Good Lemonade, Goodness Grapeness and Super Fruit Punch – and sold as individual single serve bottles and 6-packs, which have a suggested retail price of $5.49.
With the addition of a second line of kids' drinks, Honest Tea is undoubtedly aiming to build upon the windfall success of Honest Kids, which with the company launched in 2007 and now accounts for over one-third of its total business. Honest Tea noted that Honest Splash meets the American Beverage Association's School Beverage Guidelines for High Schools, a significant point of marketing amid growing concerns about highly sweetened drinks linked to rising rates of obesity among children.
"Honest Splash is a great fit for older kids, or kids on the go, who need the convenience of a larger, re-closable container," Honest Tea co-founder and TeaEO Seth Goldman said in the statement. "It still meets the needs of parents who want to provide lower-sugar beverages."
While the new line will make an appearance at the upcoming Natural Products Expo West show, Honest Tea will instead focus on its Honest Fizz line of zero-calorie sodas. Although Honest Fizz  launched last month in an exclusive with Whole Foods, Expo West will mark the official debut of the soda line, according to a company spokesman.