Press Clips: Study Analyzes Sugary Drinks and Diabetes, Red Bull Plans More With Stuntman, New Probiotic Finding
More than one-third of U.S. adults are obese, according to the Centers for Disease Control and Prevention, but a recent study indicates that diabetes has become the biggest threat facing companies that market sugary beverages.
A report conducted by Credit Suisse Group AG, a global financial services company, and researchers from Georgetown University, summarized in an article by Adweek, states that 90 percent of doctors in the U.S., United Kingdom and Asia are convinced that excessive sugar consumption causes Type 2 diabetes.
The article also states:
43 percent of added sugars in our diets come from sweetened beverages.

The American Medical Association recommends that women have no more than six teaspoons of sugar per day. A 12 oz. can of soda contains eight to 10 teaspoons.

A Georgetown study found that after participants watch a carbonated soft drink ad with a pro-exercise, anti-obesity message, almost all of them had a positive attitude toward the brand. When the ad was modified to be anti-diabetes, reactions became 37 percent more negative.
"People are not willing to punish the brand for obesity, which seems like a lifestyle problem," Kurt Carlson, a Georgetown marketing professor who oversaw the study, said to Adweek. "But diabetes is considered a disease, and many consumers see the parent brand as contributing to it."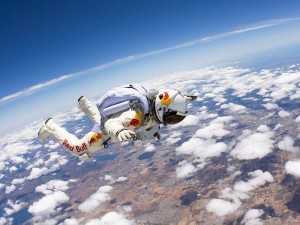 While soda manufacturers continue to face detractors, it seems that everyone loves Felix Baumgartner, the hotdogger who last year made a highly publicized free fall from the stratosphere to earth's surface. His record-breaking leap was financially supported by energy drink giant Red Bull.
Red Bull Media House, the company's video production group, announced that it will partner with Outside Television to make 45 hours of TV programming in the form of five series and several documentaries, according to Media Daily News.
Red Bull will produce a new documentary about Baumgartner's dive titled "Mission to the Edge of Space: The Inside Story of Red Bull Stratos," which will premiere in late January 2014. Two other documentaries, "The Felix Baumgartner Story" and "Felix Baumgartner: The Cave," which will focus on his jump in the Mamet Cave in Croatia, are also on the slate.
A host of other content will be included in the partnership. A seven-part, 30 minute series titled "The Art of Flight," will air at 8 p.m. on Friday nights, starting this week. The show will follow a group of professional snowboarders. Following that show on Fridays, "Where the Trail Ends" will feature professional mountain bikers. Another show, "Xtreme Collxtion," will be an anthology of 30-minute episodes about a variety of extreme sports and stunts and will debut on Saturday. "Ultimate Rush 2," beginning on Nov. 23, will follow extreme sports cinematographers, and "eXplorers" will document feats of discovery and endurance, according to the article.
Just about the only thing these madcaps usually don't injure is their stomachs. However, for those who don't always live their lives on the edge (of the ozone), a recent finding could further contribute to the probiotic beverage category, which markets digestive health.
Scientists have discovered a probiotic drink made from a traditional Japanese pickle that could help prevent the flu, according to an article by The Daily Mail. New research indicates that lactobacillus bacteria found in Suguki, a pickled turnip, could help defeat the common virus and perhaps prevent H1N1 and avian flu.
"Fans of the vegetable have long claimed it has superfood properties but only now are scientists testing the pickle in the lab," the article says.
This could be a breakthrough, so spare us. Please, no pickle jokes.