Water Still Plays Second Fiddle for Children, Teens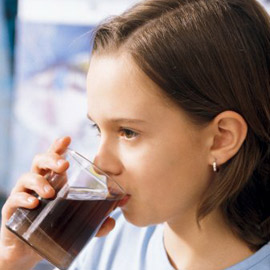 Although water has overtaken carbonated soft drinks as the most consumed beverage among U.S. adults, children and teens remain more likely to choose drinks like milk and soda than water, according to a new report from The NPD Group, a market information and advisory firm.
NPD found that tap/filtered water represented only 21 percent of drinking occasions for children, compared to 26 percent for adults. NPD points to younger consumers' choice of milk and non-diet carbonated soft drinks, particularly during meals, as the reason for the significant difference in consumption habits. NPD noted that soda represents 14 percent of beverage consumption during meals for teenagers, compared to 8 percent for all individuals.
Earlier this year, industry publication Beverage Digest reported that for the first time in two decades, Americans drink more water than soda. At an average of 58 gallons per year, U.S. consumption of water now far outpaces that of carbonated soft drinks, consumption of which peaked in 1998, when Americans guzzled an average 54 gallons of the beverages. Today, U.S. consumers drink an average of 44 gallons of soda each year.