Cross Country Cops Team Up In Monster Investigation
An ongoing investigation into Monster Energy's marketing practices took a bi-coastal turn last week when it was revealed the San Francisco City Attorney Dennis Herrera and New York Attorney General Eric Schneiderman were working together to target the company.
Last month, a lawsuit by Monster to stop a probe by Herrera into the company's marketing practices was tossed out of court; Herrera has been weighing whether Monster is marketing its drinks to children since 2012. Meanwhile, last week the Associated Press (AP) reported that Herrera had started working with Schneiderman, who issued subpoenas to several energy drink companies in 2012 as part of an investigation of his own, into the marketing practices, ingredients, and overall assessment of health risks that those products might present.
Herrera told the AP that having the two offices work together will give the prosecutors an edge.
"We are disappointed that Monster has remained defiant in marketing products to children," Herrera said. "We hope this effort will cause the company to correct its irresponsible marketing practices."
Through a spokeswoman, Monster defended its marketing practices and indicated that the caffeine content of a 16 oz. product has less than half the caffeine of a 16 oz. gourmet coffee. The spokeswoman repeated that Monster recommends against consumption of its products by children,  people sensitive to caffeine, and others.
But the warnings on the can have been discussed by many public figures as being insufficient in the face of ongoing marketing campaigns by energy drink companies. Over the summer, a committee in the U.S. Senate warned executives from Monster, Red Bull and Rockstar, the three leading energy drink companies, that they needed to do a better job of policing their marketing apparatuses, particularly with regard to digital campaigns.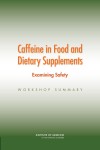 Meanwhile, as the pair of prosecutors started comparing notes, another report, by the Institute of Medicine, outlined a shortage of information about several key areas of caffeine study. During a summer workshop held at the behest of the Food and Drug Administration, scientists outlined a series of unexplored data sets that they say are hindering their ability to truly assess the effects of caffeine. Audience members debated the overall worth of the anecdotal information that has been used in media reports about the safety of energy drinks as well as expressed a need for more focused and specific study on the potential effects of caffeine consumption by a variety of groups.
The report from the IOM workshop also featured repeated criticism of the overall effectiveness of current reporting systems with regard to calls to poison control centers and other data collectors, with one panelist even suggesting a change in the name from "poison control" to something else.