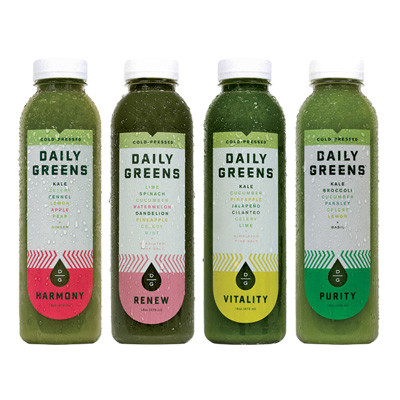 AUSTIN, Texas — Daily Greens™, the Austin-based cold-pressed green juice company, announced an expansion that will make its line of juices available for delivery nationwide through the launch of its online store. In addition to Whole Foods Market and select natural specialty stores across the country, the drinks will be available through the company's website atdrinkdailygreens.com/shop.
The new online shop will offer five Daily Greens™ green juice offerings, including:
HARMONY| Sweet greens with a hint of ginger: Kale, celery, lemon, fennel, apple, pear and ginger
RENEW| Hydrating greens with a flourish of watermelon: Mint, spinach, cucumber, watermelon, dandelion greens, pineapple, celery, lime and Himalayan pink salt
VITALITY| Savory greens with a jalapeño kick: Kale, jalapeño, pineapple, cucumber, cilantro, celery, lime and Himalayan pink salt
PURITY |Pure and simple greens: Kale, parsley, broccoli, cucumber, celery, lemon and basil
REJUVENATE| Detoxing greens with a boost of turmeric: Carrot, pineapple, romaine, spinach, collard greens and turmeric (Rejuvenate will be available beginning FEB. 15, 2014)
Daily Greens™ flavors, ELEVATE (pear, spinach, watercress, cucumber, lime and Madagascar vanilla) and ENLIGHTEN (hemp milk infused with blue-green algae from Klamath Lake, coconut nectar, Madagascar vanilla, guava and Himalayan pink salt) are exclusive to Whole Foods Market and will not be available online.
Daily Greens™ was conceived from Founder Shauna Martin's passion for green juice and its health benefits following her battle with breast cancer. A portion of Daily Greens™ sales are donated to organizations that assist young women battling breast cancer.
Since launching in 2012, Daily Greens™ has continued to expand upon its unparalleled assortment of nourishing juices, enhanced by its high pressure processing (HPP) technique which preserves the nutritional value and integrity of the natural raw ingredients. The equivalent of 6 lbs of produce and 9 USDA servings of vegetables and fruit are pressed into every bottle. All Daily Greens juices are non-GMO verified.
About Daily Greens
Daily Greens™ is committed to creating pure, healthy and delicious green juices, using sophisticated recipes to appeal to a variety of palates. Each sixteen-ounce bottle has the equivalent of 6 lbs of produce and 9 USDA servings of vegetables and fruit pressed into every bottle. To learn more, visit www.drinkdailygreens.com and follow us on facebook.com/drinkdailygreens andtwitter.com/drinkgreens.