Distribution Roundup: Rooibee Red Tea Expands Presence Across U.S., Reed's Partners With FreshDirect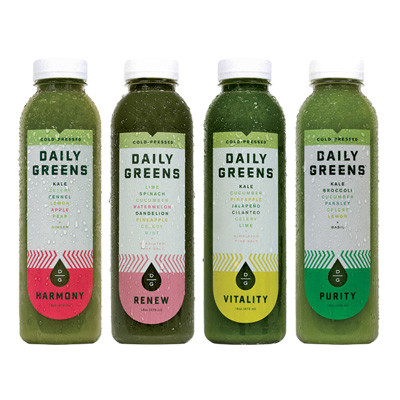 Anytime we take a week off from the distribution roundup, we're looking at a Kilimanjaro of news. So instead of the standard format, with which you've all become so accustomed, we're going to list the news in a quick-hit, mostly chronological style. It'll be kind of like a machine gun, but instead of bullets, it's 100 percent safe beverage distribution (note: BevNET takes no responsibility for potholes or road rage that could threaten the safety of your beverage's distribution).
On Friday, Daily Greens, an Austin, Texas-based cold-pressed juice company, announced that its juices are available nationwide with the launch of its online store. The five-SKU line is also available at participating Whole Foods Markets and natural specialty stores.

On Thursday, Noelani Beverage Company announced that it will distribute its raw coconut water throughout New York City's five boroughs. The beverage is already distributed throughout Connecticut, parts of Long Island, N.Y., and Boston.

Epicurex, the manufacturer of Cocozia, an organic coconut water, announced Thursday that it has partnered with KeHE, one of the most expansive food and supplement distributors in the country. KeHE will distribute Cocozia throughout Florida.

Rooibee Red Tea, which markets a line of USDA-organic, ready-to-drink red tea made from the South African rooibos bush, announced Thursday that it has expanded its presence on both coasts and the South. The tea will be available in Whole Foods stores in Pennsylvania, Maryland and Washington D.C. at the start of 2014, Publix stores in Florida, Georgia and Alabama, and Bristol Farms and Nugget Markets in California.

True Drinks, Inc., the company that markets AquaBall, a zero-calorie, sugar-free flavored water for kids, announced Tuesday that AquaBall will be available in Rite Aid in June. Rite Aid, the largest drugstore chain on the East Coast, operates more than 4,600 stores in 31 states, according to the company.

San Diego-based Cuba Beverage Company, makers of an herbal energy juice, announced Tuesday that it has secured a distribution deal with Core-Mark for the New England market. The company stated in a release that the distribution arrangement meshes well with Cuba's existing distribution in the Tri-state area.

Ti Tonics Ltd, makers of a range of antioxidant-infused teas, announced Tuesday that it has reached a distribution agreement with The Better Drinks Co. While Ti Tonics is currently distributed in New Zealand, its home market, and nearby Australia, Ti Tonics co-founder and developer Dr. Tracey King plans to distribute the teas in the U.S., according to a company release.

Reed's, Inc., known for its ginger brews and Virgil's soda line as well as it Culture Club line of kombucha products, announced Tuesday that it has reached a partnership with online grocer FreshDirect. The deal will bring Reed's products to FreshDirect's menu by the middle of February. In a company release, founder and CEO Chris Reed called FreshDirect "a true pioneer in the online grocery retail channel."

Through Dora's Naturals, a distribution company that works with Simply Orange and Organic Valley brands, Brightwater Spring Water announced on Jan. 23 that it will be sold at the new Whole Foods store in the Park Slope neighborhood of Brooklyn, N.Y. A fun nugget from the company release: founder Claire Brightwater, a self-professed medicine woman and nationally acclaimed healer, prays over each bottle of water and programs them for good luck and healing energy.

On Jan. 23, Alkame Holdings, the parent company of Alkame Water, announced that it has reached a distribution agreement with Nature's Best. The deal will bring Alkame Water to the "Western United States," according to a company release. If you don't know exactly where that is, just ask Sergio Leone.

MOJO Organics, the company that handles the development, production, marketing and distribution of Chiquita Tropicals, a four-SKU line of fruit juice, announced that it has received its first order from Walmart for Chiquita Tropicals. The line includes four flavors: Banana Strawberry, Mango, Pineapple and Passion Fruit.