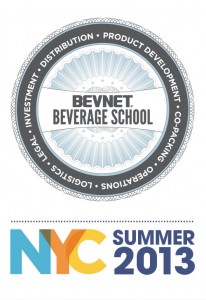 The upcoming Manhattan edition of BevNET Live will feature a special edition of Beverage School, BevNET's introduction to the beverage business. The program, which will be free and open to qualified BevNET Live registrants, will be held on Monday, June 3, the day before the opening of BevNET Live, which takes place on June 4 and 5.
Beverage School offers valuable information geared toward early-stage entrepreneurs and industry newcomers, including lessons on product development, sales and marketing, supply chain management, distribution, and more. The program will offer attendees a chance to engage Beverage School instructors and make important contacts while gathering the important information that can help launch a brand.
The limited-seating session will be available — at no cost — exclusively to attendees of BevNET Live who are new (or relatively new) beverage company entrepreneurs. Beverage School will take place at the Metropolitan Pavilion in New York at 125 W. 18th Street. If you have already signed up for BevNET Live and wish to attend Beverage School, notify BevNET sales representative Jon Landis.
Don't miss this limited seating opportunity for early stage entrepreneurs.
Reserve Your Seat at Beverage School >>
About BevNET Live
BevNET Live is a two-day forum for beverage entrepreneurs, suppliers, distributors, retailers and investors to gather, speak, exchange ideas through interactive panels and lectures, and enhance their marketing and product development strategies. Attendees can tap the expertise of investment professionals who can help groom them to attract money, business owners with inspiring success stories, and the BevNET.com community, which has spent a decade dedicating itself to careful reporting on the fast-moving beverage industry. More than just a conference, BevNET LIVE includes networking options including the BevNET LIVE Expo, beverage breaks, a cocktail reception and more.