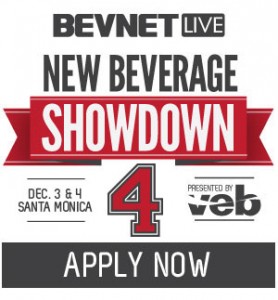 Attention beverage entrepreneurs: time is running out to apply for the New Beverage Showdown 4, BevNET's premiere beverage brand competition, which takes place as part of the BevNET Live two-day conference. The Showdown will be held on Dec. 3 and 4 at the Loews Beach Hotel in Santa Monica, Calif. and feature a dramatically expanded field of beverage companies, each vying to win $10,000 in cash and prizes.
This year, approximately 20 brands will be named "Semifinalists" and will get the chance to present to the judging panel on Monday, December 3 starting at 7:45 AM. Of the 20 companies, six semifinalists will be selected by the judging panel as "Finalists" and will make a second presentation during the Finalist round on Tuesday, December 4. The judging panel for the Finalist round will select the winner of the New Beverage Showdown 4.
The New Beverage Showdown 4 winner will be announced at approximately 4:30PM on Tuesday, December 4, 2012 during the afternoon session of BevNET Live Winter 2012 in Santa Monica, CA.
The winner of New Beverage Showdown 4 will receive a check for $5,000 from Venturing and Emerging Brands (VEB), which sponsors the Showdown, and a $5,000 ad package from BevNET.com.
If you're thinking about applying to take part in the Showdown, you'll need to hurry – only 10 spots remain for a place in the competition!
Apply Now for the New Beverage Showdown 4
New Beverage Showdown 4: Format & Application Process
Brands wishing to present during the New Beverage Showdown should visit the New Beverage Showdown 4 application for the full rules (including selection criteria) and to apply. Questions about the Showdown can be directed to John Craven.
This year, six brands will be named "Finalists" and will get the chance to present to the judging panel and full BevNET Live audience on Tuesday, Dec. 4, 2012. The Semifinal Round will be held immediately prior to the beginning of BevNET Live on the morning of Monday, Dec. 3. The Semifinal Round is intended to help innovators refine their ability to quickly introduce their products to important potential investors, distributors, and other key connections. More details on the format, including the exact timing of the presentations, will be provided at a later date.
About BevNET Live
BevNET Live is a biannual conference for the US beverage industry, with an emphasis on the entrepreneurial end of the business. It provides presentations from leading beverage executives, in-depth breakout sessions, an expo of supplier and beverage exhibits, and ample networking time. The conference is attended by entrepreneurs, suppliers, distributors, retailers, investors and others who are interested in the cutting edge of the beverage business.
About Venturing and Emerging Brands
Venturing and Emerging Brands (VEB) is a dedicated operating unit of Coca-Cola North America charged with identifying high-potential growth brands in the North American beverage space for investment or ownership by The Coca-Cola Company and exploring potential synergistic relationships with these investments. With direct access to the global resources and industry expertise of The Coca-Cola Company and its system, VEB is uniquely positioned to develop emerging beverage brands of The Coca-Cola Company to their full potential. In addition to the recent acquisition of Honest Tea, VEB currently manages brands such as illy issimo and Cascal, and has an equity investment in Zico Coconut Water.

Apply Now for the New Beverage Showdown 4