Video (+ Photo Gallery): Expo West Product Recap
The new product season got off to a blazing start at Natural Products Expo West. Whether they were real introductions, re-introductions of products from earlier in the year, or soon-to-come products being poured from jugs, this year's Anaheim-based show featured a veritable flood of new beverages for attendees to consider. We've created a video tour of some of the most interesting ones – and will be reviewing as many as possible in the days and weeks to come.
For a photos from the show, view our Expo West 2011 Photo Gallery >>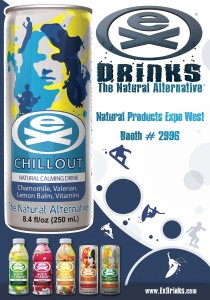 Ex Drinks, LLC is the sponsor of BevNET's Expo West show coverage. A beneficial beverage company specializing in the manufacturing, marketing and sales of a growing family of natural, great-tasting drinks – with a passion to provide consumers with the best products to support healthier choices and active lifestyles. Ex Drinks is dedicated to creating positive change while seeking new ways to enhance lives locally and globally. Their mission is "To Create Positive Change…One Ex, One Person, One Community at a time." The vision of Ex Drinks is to prosper as a mindful company built on quality. Ex Drinks is committed to operating in the new business paradigm based on the triple bottom line: People, Planet, Profit. For more information, please visit them at www.ExDrinks.com or call (702) 949-6555.