With a little more than a month to go before the big event, the stage has been set for half of the companies to compete in the "Wild Card Round" of the New Beverage Showdown 3 presented by Venturing & Emerging Brands at BevNET Live.
So far, six of the twelve companies have been selected (and will be contacted today); six more are up for grabs.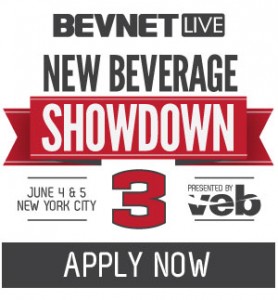 Those 12 companies will compete on Monday, June 4 on the BevNET Live Expo Stage; after presenting to a panel, the two winners will be chosen via a live audience voting process. Those winners will then be able to compete as finalists in the New Beverage Showdown on Tuesday, June 5.
More than 40 new beverage brands have applied for slots; the application window will close soon so get ready to compete.
New Beverage Showdown 3: Format & Application Process
Brands wishing to present during the New Beverage Showdown should visit the New Beverage Showdown 3 application for the full rules (including selection criteria) and to apply. Questions about the Showdown can be directed to John Craven.
This year, six brands will be named "Finalists" and will get the chance to present to the judging panel and full BevNET Live audience on Tuesday, June 5, 2012. Four of the finalists will be selected ahead of time, while the final two will be selected during a "Wildcard" round which will be held at BevNET Live on Monday, June 4 during the BevNET Live Expo. The Wildcard round is intended to help innovators refine their ability to quickly introduce their products to important potential investors, distributors, and other key connections.
Apply Now for the New Beverage Showdown 3 >>
About BevNET Live
BevNET Live moves to the Metropolitan Pavilion in New York City on June 4 and 5 this summer. Over the course of the two-day event, BevNET Live provides presentations from leading beverage executives, in-depth breakout sessions, an expo of supplier and beverage exhibits, and ample networking time. The conference is attended by entrepreneurs, suppliers, distributors, retailers, investors and others who are interested in the cutting edge of the beverage business.
About Venturing and Emerging Brands
Venturing and Emerging Brands (VEB) is a dedicated operating unit of Coca-Cola North America charged with identifying high-potential growth brands in the North American beverage space for investment or ownership by The Coca-Cola Company and exploring potential synergistic relationships with these investments. With direct access to the global resources and industry expertise of The Coca-Cola Company and its system, VEB is uniquely positioned to develop emerging beverage brands of The Coca-Cola Company to their full potential. In addition to the recent acquisition of Honest Tea, VEB currently manages brands such as illy issimo, Cascal, Sokenbicha and has an equity investment in Zico Coconut Water.