Beverage entrepreneurs, start shining up your business plans: the New Beverage Showdown will return to BevNET Live on June 4 and 5 in New York City.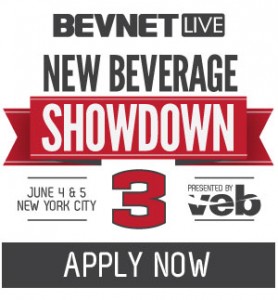 With an enhanced format featuring a "wild card" slot for two lucky brands and a profile raised by the near-instant acquisition of the previous winner, Coco Café, by Vita Coco, the stakes at the New Beverage Showdown 3 are even higher this time around.
Begun as a way to offer instant feedback to brands that are coming to market, as well as a way to provide the audience a glimpse into some of some of the innovations taking place in the world of the independent beverage entrepreneur, the New Beverage Showdown presents BevNET Live attendees with a mix of information and suspense.  "The purpose of the New Beverage Showdown is to find, showcase, and reward start up beverage entrepreneurs, " stated John Craven, CEO of BevNET.com. "The response to the Showdown has been tremendous and several of the past participants have received investment, distribution, and retail inquiries as a result of the Showdown.  We're already looking forward to seeing what the brands that participate in the New Beverage Showdown 3 have to offer."
The New Beverage Showdown 3, which will award $5,000 in cash to the winner, is presented by Venturing & Emerging Brands (VEB), a business unit of Coca-Cola North America. Winners also receive valuable advertising and merchandising materials from BevNET (valued at $5,000).
Watch this video for a glimpse into how the Showdown works:
New Beverage Showdown 3: Format & Application Process
Brands wishing to present during the New Beverage Showdown should visit the New Beverage Showdown 3 application for the full rules (including selection criteria) and to apply. Questions about the Showdown can be directed to John Craven.
This year, six brands will be named "Finalists" and will get the chance to present to the judging panel and full BevNET Live audience on Tuesday, June 5, 2012. Four of the finalists will be selected ahead of time, while the final two will be selected during a "Wildcard" round which will be held at BevNET Live on Monday, June 4 during the BevNET Live Expo. The Wildcard round is intended to help innovators refine their ability to quickly introduce their products to important potential investors, distributors, and other key connections.
Apply Now for the New Beverage Showdown 3 >>
About BevNET Live
BevNET Live moves to the Metropolitan Pavilion in New York City on June 4 and 5 this summer. Over the course of the two-day event, BevNET Live provides presentations from leading beverage executives, in-depth breakout sessions, an expo of supplier and beverage exhibits, and ample networking time. The conference is attended by entrepreneurs, suppliers, distributors, retailers, investors and others who are interested in the cutting edge of the beverage business.
About Venturing and Emerging Brands
Venturing and Emerging Brands (VEB) is a dedicated operating unit of Coca-Cola North America charged with identifying high-potential growth brands in the North American beverage space for investment or ownership by The Coca-Cola Company and exploring potential synergistic relationships with these investments. With direct access to the global resources and industry expertise of The Coca-Cola Company and its system, VEB is uniquely positioned to develop emerging beverage brands of The Coca-Cola Company to their full potential. In addition to the recent acquisition of Honest Tea, VEB currently manages brands such as illy issimo, Cascal, Sokenbicha and has an equity investment in Zico Coconut Water.