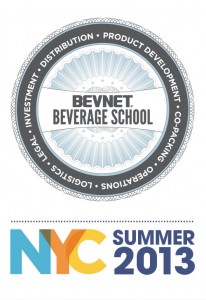 BevNET is pleased to announce that the final agenda for Beverage School NYC at BevNET Live Summer '13 is now available for viewing.
Held on Monday, June 3,  the day before BevNET Live begins, Beverage School is an intensive, half-day "Beverages 101" program that will provide participants with valuable information geared toward early-stage entrepreneurs and industry newcomers, including lessons on product development, sales and marketing, supply chain management, distribution, and more.
The session is open exclusively to attendees of BevNET Live who are new (or relatively new) beverage company entrepreneurs.
There is no additional cost for the program, however, only a limited number of seats remain for Beverage School.
If you have already signed up for BevNET Live and wish to attend Beverage School, notify BevNET sales representative Jon Landis TODAY.
Here is the agenda in full:
Time

Topic

Presenter

---

12:30 – 1:00

Registration

 

---

---

1:00

Welcome

John Craven
Founder
BevNET.com

---

1:00 – 1:25

Company Value: What drives it,
how you measure it, how you use it

Michael Burgmaier
Managing Director
Silverwood Partners

---

1:25 – 1:40

The Mind of the Angel Investor

Bruce Nierenberg
Experienced Angel Investor
& Natural Products Marketer/Broker

---

1:40 – 2:00

Investment Q&A

 

---

2:00 – 2:30

Look Deep, Not Wide:
A discussion of strategic brand positioning

Jim Tonkin
President
Healthy Brand Builders

---

2:30 – 3:00

Building your Beverage

Cathianne Leonardi
Flavorist
Allen Flavors

---

3:00 – 3:30

Coffee & Networking Break

 

---

3:30 – 4:00

Managing your Broker Network

Bill Sipper
Managing Partner
Cascadia Managing Brands

---

4:00 – 4:30

Inside Convenience Retailing

Debbie Wildrick
Founder

Growing Innovative Brands

---

4:30 – 5:00

Discovering and Protecting your
Intellectual Property

George M. Carrera, Jr.
Patent Agent
Amin Talati LLC