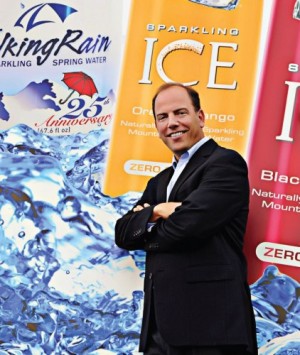 BevNET is pleased to announce that Kevin Klock, the president of the Talking Rain Beverage Co., will be joining the BevNET Live event taking place on Dec. 3 and 4 in Santa Monica.
Klock will present a case study on the key choices the company has faced in formulating the astounding growth of the Sparkling ICE brand, which has erupted over the past two years to become one of the country's most impressive beverage stories, going from $10 million in sales to more than $100 million in less than 18 months.
As part of the case study, in an effort to help beverage entrepreneurs explore and evaluate their own challenging decisions, Klock will offer up an assessment of previous attempts to increase the opportunities for growth at Talking Rain, as well as the factors that led to the company's specific production, marketing, distribution and sales support choices. Klock's discussion will also cover the kinds of choices and actions that come with the rapid acceleration of a product on the market, and how his company has addressed those opportunities.
"This is a great, valuable story. Three years ago, no one would have believed that Talking Rain could have cultivated one of the hottest brands in the country," said BevNET founder John Craven. "We think the insights into how Talking Rain arrived at its quiet path to growth will be valuable for all of our attendees."
About Kevin Klock
Kevin Klock has more than 21 years of experience in the food and beverage industry, and last year helped lead TalkingRain to its most successful year in the history of the 25-year-old company. An engineer by training, Klock has helped TalkingRain grow more than 300 percent in sales in less than two years since taking over as president. A graduate of Oregon State University with a BS in chemical engineering, Klock has a unique approach to business management that marries his operational and scientific background with a passion for building strong teams that collaborate to achieve success.
Klock began at TalkingRain in 2006 as vice president of operations. In May 2010 he took the helm as senior vice president and general manager and was made president in 2011. Since taking the leadership role at the company, he has guided TalkingRain with a strategic focus on Sparkling ICE – a 20 year-old brand that Klock helped grow from $10 million to more than $100 million in sales in less than 18 months. He has previous experience at Ralston Purina, Nestle, and Dairy Farmers of America.
About BevNET Live
BevNET Live's Winter 2012 event will be held at the Loews Santa Monica Beach Hotel in California on Dec. 3 and 4. Early Registration tickets are available through Oct. 17. BevNET Live is a two-day forum for beverage entrepreneurs, suppliers, distributors, retailers and investors to gather, speak, exchange ideas through interactive panels and lectures, and enhance their marketing and product development strategies through our Beverage School. Attendees can tap the expertise of investment professionals who can help groom them to attract money, business owners with inspiring success stories, and the BevNET.com community, which has spent a decade dedicating itself to careful reporting on the fast-moving beverage industry.