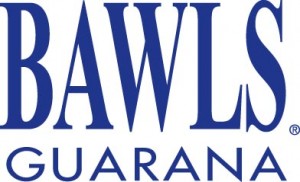 March 26, 2012 – Miami, FL — As part of Awesome Joe Racing's 2012 racing initiative, the team has brought on BAWLS Energy Drink as their performance beverage sponsor. BAWLS with all natural Guarana originally launched in 1996. Since then BAWLS has been combining smooth taste, eye catching packaging and a naturally caffeinated kick to millions of heavy eyed students, techies, professionals, ravers, migrant workers, Italian cruise ship captains, and injured semi-professional athletes everywhere.
AJR Technical Director and Chief Strategist Kevin Hines states, "Let's face it, this team has really needed BAWLS.  Hell, I've needed them. It's just what's been missing. I can now slave over a steaming hot race car for days straight and never miss a beat. It has clearly made an absolutely miserable job into one that is almost enjoyable."
Kevin went on to say, "I am also going to institute a policy that each AJR team member put 16oz of BAWLS in their mouth before each event. It is sure to give us a competitive edge."
If you would like to learn more about BAWLS Guarana, please visit them on the web at BAWLS.com and if you are a Facebook user, be sure to "like" them. If you are still on MySpace, well we can't help you there. Awesome Joe Racing can also be found on Facebook, so find them and like them. NOW.
About Awesome Joe Racing
Awesome Joe Racing was founded in 2011 by Jerry Raffa. A devout car enthusiast, entrepreneur, philanthropist, award winning chef, but above all, an awesome human being.  A natural forward thinker always looking for a new challenge, Jerry partnered with Michael Romano to form AJR. The reasons are still unclear, but we think Jerry just felt sorry for him.
Michael Romano, oddly and for no good reason dubbed "Awesome Joe", has been involved in the automotive and motorsports business for over 15 years. Michael, best described as a skinny, balding, loud mouth loser, is the primary driver and creative force behind AJR. Using his demented and BAWLS fueled skill set, Michael is determined to grow the AJR brand and elevate the team's sponsors into intergalactic sensations. With the help of their staff, technical partners, and sponsors, their mission is swift and brutal on-track domination. Anything less would be a complete waste of everyone's time.
About BAWLS
About BAWLS: Since the Brand's rebirth on March 25, 2010, the Guarana goodness of BAWLS' smooth taste, eye-catching packaging and naturally-caffeinated kick has fueled the days and nights of millions of heavy-eyed students, techies, professionals and athletes everywhere. Headquartered in Miami, FL, BAWLS Guarana beverages are available at supermarkets, convenience stores and electronics retailers across the US.  BAWLS Guarana is a refreshing, super caffeinated line of sodas infused with Guarana – a naturally-caffeinated berry harvested in the Amazonian rainforest.