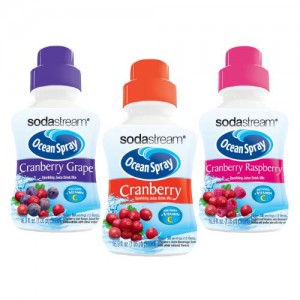 MOUNT LAUREL, N.J. — SodaStream is helping consumers ring in the season with the merriest of berries—cranberries that is! Today the leading manufacturer and distributor of home carbonation beverage systems announced the launch of three new flavors co-branded with Ocean Spray®, in advance of the most popular cranberry time of the year. And who better to introduce this dazzling new trio to consumers than the funny and familiar Ocean Spray® Veteran and Rookie Growers. Visithttp://www.youtube.com/watch?v=oEisS1116zs to get a sneak peek at the new advertisement, which kicks off a fully integrated marketing campaign including advertising, print and social media.
Made exclusively for the SodaStream home soda making system, the Cranberry, Cranberry Raspberry and Cranberry Grape flavors are a good source of Vitamin C and help bring festive, fizzy refreshment to consumers that are using SodaStream, the simple and affordable home soda maker that turns tap water into soda instantly, without the need for batteries or electricity.
"Ocean Spray® Cranberry Juice Drinks have been a natural mixer with sparkling water for years, and now consumers can enjoy the perfect combination just the way they like it," stated Daniel Birnbaum, CEO of SodaStream. "The introduction of these co-branded flavors is a great way to proclaim 'Fizz the Season' with SodaStream, as consumers seek fun, innovative new ways to share the holidays with family and friends."
Each bottle of Sparkling Juice Drink Mix makes 12 liters. The flavors are now available at retail and online for $6.99.
About SodaStream
SodaStream International (NASDAQ: SODA) is the world's leading manufacturer and distributor of home beverage carbonation systems, which enable consumers to easily transform ordinary tap water instantly into carbonated soft drinks and sparkling water. Soda makers offer a highly differentiated and innovative solution to consumers of bottled and canned carbonated soft drinks and sparkling water. Our products are environmentally friendly, cost effective, promote health and wellness, and are customizable and fun to use. In addition, our products offer convenience by eliminating the need to carry bottles home from the supermarket, to store bottles at home or to regularly dispose of empty bottles. SodaStream products are available at more than 60,000 retail stores in 45 countries around the world, including over 15,000 retail stores in the United States. For more information please visit www.sodastream.com.
To download SodaStream's investor relations app, which offers access to SEC documents, press releases, videos, audiocasts and more, please visit http://itunes.apple.com/us/app/soda-ir/id524423001?mt=8 for your iPhone/iPad, orhttps://play.google.com/store/apps/details?id=com.theirapp.soda for your Android mobile device.
About Ocean Spray
Ocean Spray is a vibrant agricultural cooperative owned by more than 700 cranberry and grapefruit growers in the United States,Canada, and Chile who have helped preserve the family farming way of life for generations. Formed in 1930, Ocean Spray is now the world's leading producer of cranberry juices, juice drinks and dried cranberries, and is the best-selling brand in the bottled juice category. The cooperative's cranberries are currently featured in more than 1,000 great-tasting, good-for-you products in over 50 countries worldwide. With more than 2,000 employees and nearly 20 cranberry receiving and processing facilities, Ocean Spray is committed to managing our business in a way that respects our communities, employees and the environment. In fiscal year 2012, Ocean Spray posted record-high gross sales of $2.2 billion and net proceeds of $338 million. For more information visit us atwww.oceanspray.com, Twitter, tagging @OceanSprayInc, or Facebook.