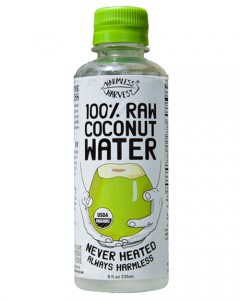 March, 2012—With demand for unaltered juices shifting into the mainstream, pioneering beverage companies BluePrint and Harmless Harvest have turned towards a technology called HPP to safely deliver the nutrition of raw ingredients without modifying the taste in any way.   HPP, which uses high pressure instead of heat to inhibit microflora growth in fresh food, is achieving significant results in the fresh, raw beverage category.
Primarily used as a complementary safeguard in packaged meat and shellfish, the technology is now being applied to raw juices as an alternative to adding preservatives and using heat treatment. Unlike traditional heat pasteurization ("boil and bottle"), Pascalization is an external process: The pressure is applied when products are in their final packaging, thus eliminating the possibility of recontamination, while the raw product itself is never touched.
Harmless Harvest, who recently launched a category re-defining raw and organic coconut water available nationwide and BluePrint, creators of BluePrintCleanse, the first nutritional raw juice cleanse program shipped anywhere in the U.S., and now offering BluePrintJuice, their signature raw fresh pressed fruit and vegetable juices available at the retail level, are setting a new standard in beverages.   The application of HPP is a huge game changer for BluePrint, which had previously been geographically limited by its own commitment to freshness and a three to five day shelf life. The company that pioneered the modern juice cleanse category is once again at the forefront of innovation and technology. Harmless Harvest, on its side, is rapidly setting a new standard in the exploding coconut water category by maintaining the complex live structure of raw coconut water for proper metabolization of beneficial electrolytes and nutrients.  Moreover, Harmless Harvest safekeeps the delicate and fragrant volatile compounds that are essential for a true-to-nature flavor.
This not only allows for increased distribution for both companies, but fosters a growing awareness of the advantages of HPP over heat pasteurization. Because of the chilled
temperature at which the juice is treated and the minimal impact that pressure has on the structure of the components responsible for nutrition and flavor, the juice remains raw.
"The fact that the juice remains raw, flavor and nutrients are unaffected and potential for pathogen growth is dramatically reduced, means HPP is raising the bar in our industry, and we are extremely proud to be early adopters of this new technology," says BluePrint.  "We've always held that all juice is not created equal; our fresh pressed raw juices have always maintained superior taste and flavor profile.  Now, we are creating a new standard for quality assurance altogether."
"The delicate nature of raw plant products is boiled away by the industry's shortcuts towards convenience and cost savings. This approach has lead the industry into an ultra-processed system with such inertia that change seemed impossible," says Harmless Harvest. "Creating progressive business models from scratch that integrate consumer driven demands for better and more diverse nutrition, proven innovations such as HPP and strict respect for sustainable sourcing might push agribusiness into a better future for all stakeholders."
Rick Marshall (Director of Hiperbaric USA, with more than 16 years of experience in HPP) is pleased to see the technology crossing categories and growing exponentially.  "It is very refreshing to finally see companies in the raw beverage industry adopt HPP. In the early stages of HPP commercialization, a lot of testing was centered around fresh juices & beverages with great results but the economics didn't make sense. Recent improvements in productivity and efficiency make HPP more viable as a processing technology for the beverage industry" says Marshall.
HPP or High Pressure Pascalization is named after 17th century French scientist Blaise Pascal, who pioneered research on the effects of pressure on fluids.  Pressure was first used to experiment with reducing bacteria levels in food in 1897 and has been developing and perfecting as a practice ever since.
In addition to disabling the potential for microbial growth and allowing for a risk-free product into the hands of consumers, a key benefit of HPP is a naturally extended shelf life. The extended shelf life is a boon for companies to make raw foods available where previously impossible, a hurdle that both BluePrint and Harmless Harvest have scaled with rapid success.
"HPP is not a magic bullet by any means" says Harmless Harvest. "Very quickly it will reveal the truth behind the brands: superior practices and quality ingredients will now have the opportunity to yield a superior product.  HPP allows us to put those superior products in a greater number of hands."
The method is in no way inexpensive or easy to implement.  But both BluePrint and Harmless Harvest agree, "This is the best way our products should be made. Looking ahead, it's the standard that anyone in this space should adhere to, for the benefit of consumers everywhere".
About BluePrint
Launched in 2006 by Founder Zoë Sakoutis and Co-Founder Erica Huss, BluePrintCleanse began as the first line of juice cleanses to offer varying levels of intensity depending on one's dietary habits and history. It's a user-friendly system of cleansing set up to be practical for all nutritional lifestyles, from the most austere of raw food acolytes to the burger-and-red-wine crowd looking to periodically offset the damages of their indulgence. In addition to cleanses, BluePrint now offers BluePrintJuice, a line of individual bottles of fresh pressed juice available at retail outlets including Whole Foods Markets, FreshDirect, Gourmet Garage, Dean & Deluca and more.  Juice 'Til Dinner, BluePrintKit (healthy essentials for the home kitchen), and The 3-Day Cleanse. BluePrint's fresh pressed juices and raw food programs are delivered to homes and offices across the U.S. and Canada.
About Harmless Harvest
Founded in 2009 by Douglas Riboud and Justin Guilbert, Harmless Harvest develops and markets outstanding functional foods and beverages that provide the raw nutritional integrity of pioneering, sustainably wild-harvested plant products.
To achieve this, Harmless Harvest combines innovative scientific methods with local traditional knowledge, from rewilding to agroforestry.
This safeguards threatened ecosystems and traditions by giving them mass-market appeal with tangible economic value.
After 3 years of R&D, the company launched the world's first raw and organic coconut water ethically sourced from small agroforestry systems. Without spending a dime in marketing but relying on volunteers and word-of-mouth, this first product is fast becoming the new category standard and a highly successful demonstration that consumers care more about what's inside the bottle and how it's made than what 'lifestyle' marketing & PR efforts promote.
Six months after launching with Whole Foods Market, 100% raw and organic coconut water is now available in over 1,000 outlets nationwide and counting.