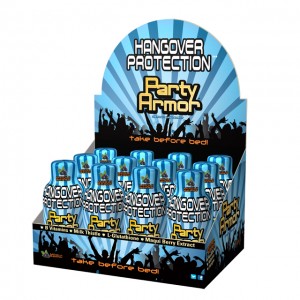 Party Armor™ "the Hangover Protection™ shot" establishes distribution with Badger Liquor, the largest beer, wine and liquor distributor in Wisconsin.
Curtis Reese, General Sales Manager, Badger Liquor commented on the recent partnership. "Party Armor™ is a new and exciting product and we are elated to be a part of its growth in the Wisconsin Market".   According to Reese, "Party Armor™ has been available in Wisconsin as of November 1st 2011."
Party Armor™ is a 2oz. shot that you take before bed (after a night of drinking) to protect against dreaded headaches, nausea, and fatigue associated with alcohol consumption. Should you forget to take Party Armor™ at the end of your night, you can also take it – the morning after – to alleviate your hangover symptoms.
Party Armor™ is based in Bay City, Michigan and was founded by Cason and Curtis Thorsby.
Party Armor™ is currently available in Michigan, Wisconsin, and Ohio.