KarmaLife Coconut Water Announces Polar Beverages as Distribution Partner for New England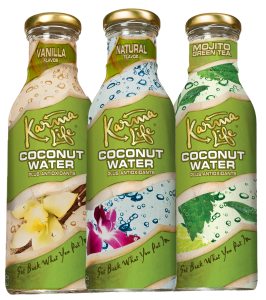 Southfield, Mich. (April 2, 2012) – After a successful roll out for KarmaLife in the mid-west, the momentum moves east with Polar Beverages signing up as the distributor for New England. With Polar Beverages as a partner KarmaLife will be available to consumers through all retail channels both big and small.
KarmaLife's CEO Shashi Shastri commented, "Polar Beverage marks a seminal moment in our growth as a brand. Polar Beverages extremely selective process is a testimonial to both, our product and responsible approach to market expansion."
Terry Casey KarmaLife VP Sales added, "Our partnership with Polar Beverages offers  discerning New England consumers the best taste and value in a fast growing category. KarmaLife will work closely with Polar on a comprehensive marketing plan to support all retail channels"
Polar Beverages VP Marketing Gerry Martin said: "KarmaLife Coconut Water is a welcome addition to the already strong portfolio of Polar Beverages. This growth category needs a player with vision and quality in a unique package offering and KarmaLife offers the consumer a point of difference and taste profile unlike those currently in the market.
KarmaLife is the flagship brand of Juvenex Inc. located in Southfield, Michigan.
KarmaLife is the first premium coconut water from India launched in USA. Currently available in best in class 12 oz glass packaging and three unique flavors, Natural, Vanilla, Green Tea/Mojito. KarmaLife Coconut Water is infused with powerful antioxidants from Kokum Super Fruit and contains more Potassium than comparable brands.
For further information, please contact Terry Casey 248-436-2866
Polar Beverages is the largest privately-owned, soft-drink bottler in the United States.  The company traces its history to 1882 and has a long established reputation for quality, strong customer relationships and brand loyalty.  Polar's business segments include the company's flagship Polar brand, franchise national brands, new-age brands and private-label brands.
For further information, please contact: Gerald E. Martin 508-749-2246