NY2O Water Enters Whole Foods in Greater NYC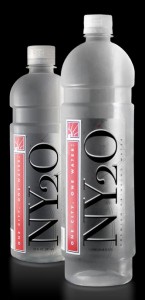 NEW YORK — NY2O, America's premium bottled water from the Catskill region of New York State, is now available for purchase at 26 Whole Food Market locations in the greater New York Metropolitan tri-state area.
Whole Food Markets have seven locations in Manhattan, six in Connecticut, eight in New Jersey, three on Long Island and two in Westchester County, each store displaying NY2O in 20 ounce, one liter and 1.5 liter bottles.
"With our recent introduction to the area's Whole Food Markets, we also plan to offer special offers of NY2O so that more and more patrons of fine bottled water may experience the premium, single spring, New York taste," said Elias Slubski, President of NY2O.
Born in New York's Catskill Mountains Preserve, micro-filtered to its purest, natural brilliance and bottled locally, NY20 premium water offers discerning consumers the quintessential taste of New York.
After years of meticulous research, NY2O delivers a premium bottled water that captures an unmistakable taste and quality, and is a one hundred percent American brand that represents the energy, creativity and essence of New York.
Featured in elegant and ergonomically designed bottles, NY2O also is available  throughout much of South Florida, with roll-out plans set for Chicago and the midwest as well as Southern California.
As it expands its distribution network across the nation, NY2O offers four bottle sizes: 12 and 20 ounces, and one and 1.5 liters.  The company also plans to offer a sparkling accompaniment later this year, and in the future, a line of enhanced waters.