Southwest Airlines Welcomes vitaminwater Onboard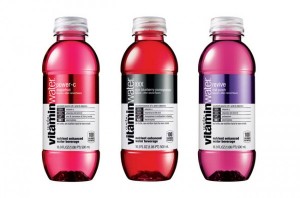 In Celebration, Carrier Launches Sweepstakes to Give Away a Year of Free Travel and vitaminwater!
DALLAS, May 1, 2013 /PRNewswire/ — Southwest Airlines (NYSE: LUV) announced today the addition ofvitaminwater as a new premium drink option onboard! Customers now have the option to purchase vitaminwater for $3 on all of the carrier's flights.  To celebrate the new partnership, Southwest today launched a sweepstakes to give away a year's worth of vitaminwater and travel on Southwest Airlines!  Customers can enter to win at www.southwest.com/vitaminwater between May 1 and May 31, 2013(sweepstakes rules listed below.)
"We're excited to add vitaminwater to our variety of onboard offerings," said Mike Hafner , Southwest's Vice President of Cabin Services.  "We listened to our Customers and know they'll be happy with this new premium beverage option."
"vitaminwater is thrilled to be riding along with consumers on Southwest flights," said Brock Safe , Coca-Cola's Sr. National Account Executive.  "This adds a great-tasting, nutrient enhanced beverage option to the onboard selection of Coca-Cola products that they can enjoy inflight."
Southwest is launching the year-long trial of vitaminwater by offering the popular flavors vitaminwater xxx (acai-blueberry-pomegranate) and vitaminwater squeezed (lemonade). The airline will accept Business Select and Rapid Rewards drink coupons as payment for vitaminwater onboard during the trial.
Southwest Airlines offers complimentary non-alcoholic refreshments such as water, coffee, and soft drinks onboard all flights, along with peanuts and pretzels. A heartier snack is offered to Customers free of charge on longer flights. Customers may also purchase beer, wine, and cocktails for $5 per drink.  Click here to access the current Southwest Airlines inflight menu to see a list of all onboard offerings.
ABOUT SOUTHWEST AIRLINES CO.
In its 42nd year of service, Dallas-based Southwest Airlines (NYSE: LUV) continues to differentiate itself from other carriers with exemplary Customer Service delivered by nearly 46,000 Employees to more than 100 million Customers annually.  Southwest is the nation's largest carrier in terms of originating domestic passengers boarded, and including wholly-owned subsidiary, AirTran Airways, operates the largest fleet of Boeing aircraft in the world to serve 97 destinations in 41 states, the District of Columbia, the Commonwealth of Puerto Rico, and six near-international countries. Southwest is one of the most honored airlines in the world, known for its triple bottom line approach that takes into account the carrier's performance and productivity, the importance of its People and the communities it serves, and its commitment to efficiency and the planet.  The 2011 Southwest Airlines One Report™ can be found at southwest.com/citizenship.
Southwest Airlines
From its first flights on June 18, 1971, Southwest Airlines launched an era of unprecedented affordability in air travel quantified by the U.S. Department of Transportation as "The Southwest Effect," a lowering of fares and increase in passenger traffic wherever the carrier serves.  On every flight, Southwest offers Customers the first two pieces of checked luggage (weight and size limitations apply) and all ticket changes without additional fees. Southwest's all Boeing fleet consistently offers leather seating and the comfort of full-size cabins, many of which are equipped with satellite-based WiFi connectivity and a new, sustainable cabin interior.  With 40 consecutive years of profitability, the People of Southwest operate nearly 3,400 flights a day and serve communities around 84 airports in Southwest's network of domestic destinations.  Southwest Airlines' frequent flights and low fares are available only at southwest.com.
AirTran Airways
AirTran Airways, a wholly-owned subsidiary of Southwest Airlines Co., offers coast-to-coast and near-international service with close to 600 flights a day to 49 destinations.  The carrier's high-quality product includes assigned seating and Business Class. As Southwest continues to integrate AirTran's People, places, and planes into Southwest Airlines, Customers of both carriers may book flights at airtran.com and exchange earned loyalty points between both AirTran's A+ Rewards® and Southwest's Rapid Rewards® for reward travel on either airline.
About The Coca-Cola Company
The Coca-Cola Company (NYSE: KO) is the world's largest beverage company, refreshing consumers with more than 500 sparkling and still brands. Led by Coca-Cola, the world's most valuable brand, our Company's portfolio features 16 billion-dollar brands including Diet Coke®, Fanta®, Sprite®, Coca-Cola Zero™, vitaminwater®, Powerade®, Minute Maid®, Simply®,Georgia® and Del Valle®. Globally, we are the No. 1 provider of sparkling beverages, ready-to-drink coffees, and juices and juice drinks. Through the world's largest beverage distribution system, consumers in more than 200 countries enjoy our beverages at a rate of 1.8 billion servings a day. With an enduring commitment to building sustainable communities, our Company is focused on initiatives that reduce our environmental footprint, support active, healthy living, create a safe, inclusive work environment for our associates, and enhance the economic development of the communities where we operate. Together with our bottling partners, we rank among the world's top 10 private employers with more than 700,000 system associates. For more information, visit www.thecoca-colacompany.com, follow us on Twitter at twitter.com/CocaColaCo or check out our blog, Coca-Cola Unbottled, at www.coca-colablog.com.
Sweepstakes Terms and Conditions:
No Purchase Necessary.  Open only to legal residents of the 48 contiguous United States and District of Columbia excludingFlorida, New York and Rhode Island, 18 years of age or older as of May 1, 2013.   Void where prohibited by law.  Sweepstakes runs from 12:01 a.m. EST on May 1, 2013 through 11:59 p.m. EST on May 31, 2013. For entry information and the Official Rules, visit http://www.southwest.com/vitaminwater Sponsored by Southwest Airlines Co.