Fitness Edge Awarded Gold Medal at the World Dairy Expo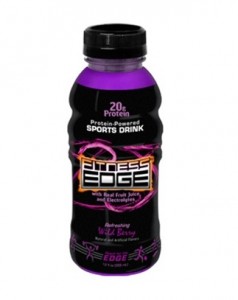 NEENAH, WI  (August 25th, 2011) – FITNESS EDGE, a fruit juice and skim milk Smoothie with 20 grams of Whey Protein was recently awarded the Gold Medal at the World Dairy Expo for the best tasting protein beverage.
"We are extremely honored to receive this prestigious award for the third time, and it will help us to maintain the tremendous momentum this brand has already generated," said Mark Gottsacker, the president of Global Bottling Partners, LLC, makers of Fitness Edge. "Fitness Edge is a refreshing, easy to drink protein beverage that has generated a loyal following in the markets it is available in.  We now have a brokerage agreement in place with Acosta Sales, arguably the top brokerage firm in the industry, and they recently helped us secure a distribution agreement with Supervalu."
"Although Fitness Edge has been positioned as an ideal sports nutrition beverage with whey protein and electrolytes, we have been pleasantly surprised by the number of consumers who are using the product to help with their medical nutritional needs," Gottsacker continued. "Letters and e-mails have come from seniors suffering from sarcopenia, cancer patients going through chemo and a renown OB/GYN is giving samples to her patients battling morning sickness."
For more information go to www.drinkfitnessedge.com or e-mail Mark Gottsacker at info@drinkfitnessedge.com.