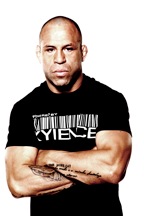 LAS VEGAS (August 25, 2011)— XYIENCE, maker of Xenergy, the official energy drink of the UFC, announces that UFC fighters Wanderlei Silva and Mark Hominick will be appearing at XYIENCE's booth #5003 at the 2011 NACS Show, a convenience industry tradeshow that takes place Oct. 1 – 4 at McCormick Place in Chicago.  The XYIENCE team athletes will be signing autographs from noon to 3 p.m. on Sunday, Oct. 2, and Monday, Oct. 3.
XYIENCE will also host its Get Xenergized Happy Hour from 3:30 to 5:30 p.m. on Sunday and Monday. All NACS attendees are invited to XYIENCE's booth to mix and mingle with spokesmodels Amber Nichole and Amanda Corey. A few lucky winners will take home gear signed by XYIENCE's team of UFC fighters.
Silva, 35, fights in the UFC's middleweight division and has achieved iconic status in the sport of mixed martial arts (MMA). The former PRIDE 205-pound champion nicknamed "The Axe Murderer" has celebrated 33 victories in his career, including a four-year, 18-fight winning streak with 22 wins by KO (knock-out) or TKO (technical knock-out).
Hominick, 29, is an acclaimed Canadian MMA athlete who fights in the UFC's featherweight division. Nicknamed "The Machine," he has a record of 20-9. Hominick has held a number of prestigious MMA titles including TKO Featherweight Champion, ISKA Canadian Super Welterweight Kickboxing Champion and IKF North American Super Welterweight Champion.
About XYIENCE (pronounced zy-ince)
Headquartered in Las Vegas, XYIENCE products support an active and healthy lifestyle and are held to the most stringent standards of excellence. Visit www.xyience.com for details.
Xenergy (pronounced zen-er-gy)
Xenergy is the official energy drink of the Ultimate Fighting Championship (UFC) and is one of the fastest growing brands in its category. The first energy drink created by a nutrition company, Xenergy is a sugar- and calorie-free drink that's fortified with vitamins. All-natural flavors provide a consistent supply of energy, without the "crash" inherent in most other energy drink brands.  Xenergy Premium flavors include Cherry Lime, Cran Razz, Mango Guava and Blu Pomegranate.  Xenergy Xtreme flavors include Fruit Punch, Orange Fuel and Cherry Rush.  Xenergy is available throughout the United States and Canada.