Karma Water Announces Distribution Throughout Canada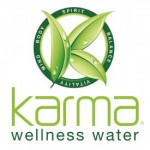 PITTSFORD, N.Y. — Following a very successful summer promotion with 7-Eleven of Canada, Karma announced it is going nationwide in Canada. Karma's exclusive importer and route-to-market partner is Lassonde, the well-known juice manufacturer. Lassonde is one of Canada's premier beverage companies.
Lassonde's EVP of Sales, Peter Mattson offers this…"Karma is a remarkable product that delivers on all fronts. It has great quality, break-through packaging, and crisp imagery. We are very excited about Karma. Retailer and consumer acceptance is great and sales are strong."
Karma is a truly enlightened product. A product born out of the idea that what goes around comes around. A product based on the simple belief that if you do something positive, you'll get something positive back in return. That when you make good choices, you'll see and feel the benefits. Like choosing a drink that transforms pure spring water into wellness water. Which creates positive effects for your mind, body, spirit, balance and vitality. Karma Wellness Water. A fresh way to drink your vitamins.
Karma's founder CJ Rapp, continues… "We are excited to work with Lassonde. They have an excellent reputation and they execute well in the market. It will be terrific to see Karma reach its full potential by virtue of a strong route-to-market partner." Lassonde will make Karma available to all levels of trade. Among them are mass-merchandisers, grocery, pharmacy and convenience. Karma is also integrated into Lassonde's food service division, which opens up the potential in restaurants, schools, hospitals, fitness club, etc.bout Lassonde Industries Inc. Lassonde Industries Inc. is a North American leader in the development, manufacture and sale of innovative and distinctive fruit and vegetable juices; with drinks marketed under recognized brands such as Oasis, DelMonte, Allen's, Rougemont, Graves, Fruité, Everfresh and Fairlee. Lassonde is Canada's largest and USA's second largest producer of store brand ready-to-drink fruit juices and drinks.
Founded in 1918, A. Lassonde Inc. is the oldest of Lassonde Industries Inc.'s subsidiaries. Today, the Company relies on a network of factories equipped with modern technology, making it the perfect model of production. A Lassonde meets international standards of excellence with flying colors. Lassonde is committed to maintaining high standards of quality and promoting active and healthy living. More than 2,000 employees working in 14 plants across Canada and the United States contribute through their expertise, to the Company's growth and superior quality products.
About Karma Culture LLC.
Karma Culture LLC, based in Pittsford, N.Y., is a manufacturer of naturally enhanced, flavored spring water. Founded in 2011, the company's Karma Wellness Water provides unprecedented levels of vitamins and nutrients in a mix-to-drink form. The line includes five functional varieties, each meticulously formulated to deliver distinct wellness benefits for mind, body, spirit, balance, and
vitality. Karma was born from the universal truth that if you do something positive, you'll get something positive in return. It meets the needs of people with active lifestyles who are looking to make good choices that will positively impact their health.