Minta Now Available at Kroger's Taste of Tomorrow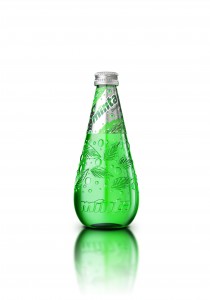 Minta Expands Presence Into Kroger Network Starting in Colorado
LOS ANGELES, CA, October 10th, 2013 Minta Beverages, Inc., maker of the naturally flavored mint soda announced today that King Soopers chain of supermarkets (a subsidiary of The Kroger Co.) has agreed to begin carrying two flavors of Minta, a naturally flavored mint soda in their supermarkets across the state of Colorado.
The Kroger Co. will introduce Minta thru their new "Taste of Tomorrow, " a platform for emerging brands," starting in state of Colorado with King Soopers and City Market.
"We determined that consumer demand for Minta in the mainstream supermarket channel is expanding rapidly and excited by our product being authorized. " says Jenia Kokotuha, Founder of Minta Beverages, Inc.
Mary Ellen Adcock, Vice President of Natural Foods, stated that, "Minta is a refreshing launch to the soda category. It has done well to capture a polarizing flavor like mint and succeed in making it enjoyable and approachable. It stands out on the shelf as something truly unique and something we believe King Sooper shoppers will grow to love."
About MINTA
MINTA is a carbonated, mint-flavored soda that was founded in 2011. MINTA is available in Original (Natural Sugar) and Diet (Sugar-Free) in 12 ounce Cans, 12 ounce custom PET bottles and 355 ml custom glass bottles. Minta products are sold through specialty gourmet and natural food stores, mainstream supermarket chains, retail stores and restaurants nationwide, and in Canada. For more information on MINTA, visit www.mintasoda.com, like us at http://www.facebook.com/mintasoda and like us at twitter account.
All company and/or product names are trademarks and/or registered trademarks of their respective owners.