WAT-AAH! Continues Summer Marketing Campaign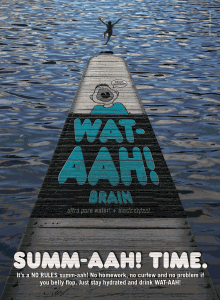 NEW YORK — WAT-AAH!, one of the fastest growing and most exciting functional bottled water brands in the industry, continues its "SUMM-AAH! Time" campaign as part of the ongoing "Summer Rush Series" which promotes physical activity as well as educates kids and teens on the importance of drinking water. Staying true to its "cool + health" messaging, WAT-AAH!, a premium brand targeted towards kids and teens, introduces a series of  print ads aimed at celebrating the freedom of summer time and encouraging healthy hydration. This campaign also includes the launch of a digital engagement initiative asking kids and teens to "Share your SUMM-AAH!"
Drawing from iconic summer moments, the main message behind the campaign is to encourage the brand's target consumers, kids and teens, to enjoy the freedom of summer while also inspiring them to share their favorite summer time memories through its digital activation. Fans can engage by either tweeting (@wataah) with the official hashtag (#ShareYourSummer) or by posting photos and/or videos directly to WAT-AAH!'s official SUMM-AAH! Time Tumblr site.
Through this digital initiative, for every photo uploaded to the brand's SUMM-AAH! Time site, WAT-AAH! will donate $1 to the YMCA of Greater New York's Strong Kids Campaign which aims to promote healthy living, physical activity, education and social responsibility. This collaboration is part of WAT-AAH!'s growing partnership with the West Side YMCA starting with distribution in YMCA vending machines throughout NYC as well as bringing its Healthy Hydration in the Nation Lecture Series into its summer programs to educate kids on the importance of drinking water.
Staying true to its mission to champion kids' health, WAT-AAH! continues its efforts to help in the fight against childhood obesity by keeping kids healthy and active. Over the past three decades, childhood obesity rates in America have tripled, and today, nearly one in three children in America are overweight or obese.  According to the National Sporting Goods Association, in America today, a child is three times more likely to stay home and play video games than go out and ride a bike. This decline in physical activity is a contributing factor in these rising obesity rates among children in the U.S. Studies have shown that chronic obesity-related health problems can cause such diseases as diabetes, heart disease, high blood pressure, cancer, and asthma in children.
About WAT-AAH!
WAT-AAH! is a line of functional water free of sugar, artificial flavor or color of any kind and tastes like pure clean water. Rose Cameron, the CEO and founder, created WAT-AAH! after learning an alarming fact that today's generation of kids are predicted to have a shorter life expectancy than their parents largely due to childhood obesity. Inspired by her two boys and Cameron's 20+ years of experience in brand building and developing successful national marketing campaigns for various industries, she and her sons worked together to design WAT-AAH!'s screaming boy logo and its first line of functional products, which entered the market in 2008.
Since then, WAT-AAH! has aimed to make water "cool" and contemporary to kids and teens to encourage their consumption. WAT-AAH! is available in major supermarket chains such as Kroger and its banners (Dillons, Fred Meyer, Fry's, King Soopers, QFC, Ralph's and Smith's), Ahold subsidiaries (Stop & Shop, Giant-Landover and Giant-Carlisle), Harris Teeter, Ingles, Hannaford, Big Y, ACME, Shaw's, Giant Eagle, BI-LO, Albertsons, ShopRite, Food Lion, Whole Foods Markets and many others as well as school districts nationwide.