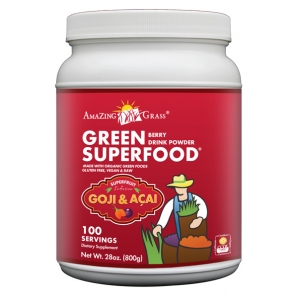 NEWPORT BEACH, Calif. — Amazing Grass™, the nation's leading brand of plant-based, certified organic, green whole food supplements, has launched Fresh Start, an easy to follow two-week challenge designed to inspire an overall healthy lifestyle and help people feel energized. The program is available through the Amazing Grass website or free Fresh Start iPhone app, complete with daily recipes, shopping lists, expert videos and advice, and exclusive rewards.
"The New Year is a perfect time to reset and reinvigorate our health," said Todd Habermehl, co-founder of Amazing Grass. "Our Fresh Start makes it easy for anyone to become more aware of what they are putting into their bodies, and how everything we eat and drink has an impact on our physical and emotional well-beings. At the end of the two weeks, our goal is for users to learn how to incorporate simple changes into their diets, and be motivated to adopt a healthier lifestyle that incorporates clean nutrition and exercise."
The Amazing Grass Fresh Start challenge allows for personalized start-date options and recipe adjustments based on dietary requirements, making the two week period as convenient for the user as possible. Those who download the Fresh Start app can track food and beverage choices in a daily food journal, and access the meal plans, recipes and shopping lists at their fingertips. People who sign-up online will receive daily emails with the same information. Users will also receive short educational videos hosted by nutritionist and food educator Rebekah Winquest. The videos will help users transition to a lifestyle of healthy food choices by discussing a wide variety of topics, including why to eat organic, how to alkalize the body, how diet influences stress levels, fusing nutrition and exercise, and more. The videos can help consumers understand how food and beverage choices affect the body, mind and energy levels.
Amazing Grass products are made from real, nutritious, raw ingredients that help support vitality and maintain a healthy lifestyle. All Amazing Grass products are gluten free, vegan, raw and non-GMO, and are specially formulated to help detoxify and cleanse the body while naturally boosting energy levels and supporting the immune system.
Consumers can find additional information about the Fresh Start challenge in Sprouts and Whole Foods locations nationwide, and can download the Fresh Start iPhone app via the iTunes store and amazingrass.com. For more information on Amazing Grass and its line of powdered supplements and energy bars, please visit amazinggrass.com.
About Amazing Grass
Amazing Grass was created in 2002 to help people connect health, nutrition and the environment to lead more active lives by achieving their full potential through better nutrition. For more than 50 years, its family farm in Kansas has perfected the growing, harvesting and dehydration of organic greens ensuring optimal nutrition. All Amazing Grass products are certified organic, gluten-free and vegan, and designed for people who want to cleanse and detoxify; do not get the recommended daily servings of fruits and vegetables; have digestive issues, and/or are vegan or consuming a vegetarian diet. All Amazing Grass products are made in the USA and are non-dairy, non-GMO, vegan, gluten free and do not contain soy lecithin fillers. Follow Amazing Grass via Facebook, Twitter and Pinterest.