By Ray Latif
Talk about premium. The juice category keeps getting closer to fresh-squeezed, and improving price points as it does. By constantly raising the ceiling on process technology, the top end of the juice category continues to allow the development of new brands and a new definition of fresh.
That can make it tough to track the full scope of the category, particularly when using a marketing term like "super-premium." Based on variables that include home-juicing, storefront sales, bottled products and the very notion of what constitutes a "super-premium juice," value estimates range from $1.6 to 3.4 billion. However, one aspect of the market is beyond dispute: cold-pressed juices, which are often regarded as having superior taste and quality than traditional counterparts, are gaining steam – and fast.
"The category of cold-pressed, super-premium juice is really having its moment," said Chris Bruzzo, senior vice president, Channel Brand Management and general manager of Evolution Fresh. "You're in an environment where consumers are ready to make that journey into the next-generation of juice."
Bruzzo made the statement just a few days before big news hit the category: Whole Foods would be marketing several Evolution Fresh juices on an exclusive basis, and the brand would be rolled out nationally in the retailer. Additionally, Starbucks would develop other lines of snacks under the Evolution Fresh brand platform, giving it even more visibility.
The news meant another realignment in the Whole Foods pecking order, which, in less than two years, has seen stalwart brands like Odwalla, Naked and Columbia Gorge become bottom-shelf dwellers. Those brands have been replaced by a cadre of high-pressure processed (HPP) competitors, including Evolution Fresh, Suja and BluePrint, as well as upstart regional brands like Project Fresh and Vital Juice – not to mention a line of in-house fresh-pressed products that Whole Foods has been test marketing on its own.
The transition has been swift, but it's not entirely unexpected. Trends toward health and wellness have exploded onto the U.S. market and fueled a roller coaster of change within food and beverage industries. From functional ingredients and ancient grains to low-calorie natural sweeteners and raw foods, consumers are exposed to, and demanding, better-for-you products in every aspect of their diets. And although much of this demand begins in the natural channel, one need look no further than the ubiquity of coconut water or Greek yogurt as symbols of how quickly mainstream adoption can take place.
STARTING WITH CLEANSE
In the case of raw and cold-pressed juices, much of the recent growth has its roots in greater awareness and demand for detoxifying juice cleanses, which, in recent years, have been bolstered by a celebrity foghorn of endorsement. With influential devotees like Gwyneth Paltrow and Kim Kardashian sounding off on the benefits of juice cleansing, trendy and well-heeled consumers have flocked to a swelling selection of direct-to-consumer cleanse programs often sold online and packaged as daily regimes of several bottles of juice.
While there is some disagreement in the health community about the actual efficacy of juice cleanses, a loyal and growing contingent of consumers swear by the products, and it's clear there is a significant market for these detoxifying elixirs. Proof comes in the form of Blueprint, which, since its launch in 2007, has been the largest and most visible marketer of bottled juice cleanses. Blueprint reached $20 million in sales in 2012, attracting the attention of natural foods conglomerate Hain Celestial, which acquired the brand in December.
However, while juice cleanses have gained a significant amount of mainstream media attention and continue to drive to new awareness and consumption of high quality juice, the segment is limited in scale because of the high cost of the products (a single day's regime often retails for upwards of $60), and use occasion, which varies from one consumer to the next. And despite sustained traction for juice cleanses, Jeff Church, the CEO of Suja, sees possible cracks in the sustainability of a business predicated solely on the sale of juice cleanses.
"I do think that cleansing potentially is a fad," Church said. "I don't think you necessarily want to build your business model around a cleanse-based company, which is why we're building ours more on reinventing the juice category. I think, in general, people want to treat their bodies better. Cleanse is just a small component of it, to be honest."
Yet while juice cleanse products may remain a tiny subset of the multi-billion dollar U.S. juice category, demand for the beverages has led to the introduction of many new lines and brands that are modeled or culled from cleanse packages, but sold as individual bottles. Priced at $7-11 for a 16 oz. bottle, and sold at a variety of large and independent natural retailers, these products, which include Hain's BluePrint Juice line, are commonly consumed for uses other than cleanse, including meal replacement and weight loss management. In a little more than a year, the products have gained shelf space in hundreds of large and independent natural retailers across the country – and that number is growing.
To achieve wider distribution and a longer shelf life for these juice products, companies turned to HPP, a method of processing that, unlike pasteurization, uses high pressure instead of heat to inhibit bacteria growth in raw foods and beverages. The juice, which is already bottled when it undergoes HPP, does not come in actual contact with pressure. Although HPP gives raw foods a shelf life of only a few weeks, it is widely regarded as superior to pasteurization (which is how most juice products are processed) in maintaining nutrition and flavors from raw ingredients.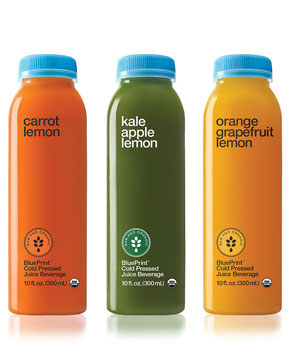 PRESSURE TO "REINVENT THE JUICE CATEGORY"
HPP has helped create the cracks for what Church and others see as potentially a seismic shift in the way mainstream consumers view and purchase juice. They argue that the wave of new cold-pressed juices offer quality and taste that shatters the mold of traditional packaged juice, and it's the emergence of HPP that is the single biggest factor behind greater adoption of the products.
"HPP is the cold-pressed juice category, in our view," Bruzzo said. "We are totally committed to Evolution being a cold-pressed juice that uses HPP in our core juices. And we believe that it is going to unlock a fundamental shift, we believe, in the way that Americans, and, ultimately, the world, consumes juice."
Evolution views juice as becoming less of a complementary beverage and more of, what Bruzzo called "a progressive choice in your nutrition every day." The mindset of the Starbucks-owned company is aligned with category trends that have seen dollar sales and consumption of traditional juice drinks remain stagnant or decline. According to market research firm Packaged Facts, consumption of regular orange juice has over the past five years slid by 3.6 percent, while that of frozen orange juice plummeted by 14.7 percent.
Part of that wane in consumption comes from Americans' desire to reduce their intake of sugary beverages of any kind. But research points also to an interest in increased nutritional benefits, not just calorie reduction. In a recent analyst report on the juice category, Michael Schaefer, the head of beverage and foodservice for market intelligence firm Euromonitor International, notes that it's possible to overcome consumer concerns about sugar, but in the form of better-for-you beverages, including HPP juices, "which can offer a truly different taste/health benefit equation," he wrote.
Despite what appears to be tremendous upside to the use of HPP, and putting aside recent rumblings by some in the cold-pressed juice category who consider HPP to be an adulterant to raw juice, there are some significant roadblocks to greater deployment of the processing format. For one thing, HPP, which requires high level of technical expertise and equipment, represents a substantial added cost to juice companies, which often outsource processing.
The incremental cost for toll processing can range from $0.25 – $0.45 per bottle, depending on the size of production runs, according to Joyce Longfield, an independent HPP consultant who advises a range of cold-pressed juice companies. Those costs do not include transport to and from HPP facilities. And if toll processing sounds expensive, consider that the cost to purchase an HPP machine can run from $800,000 to well over $2 million.
Additionally, because of the dramatic rise in demand for HPP, many toll processors are currently at capacity, Longfield said. Compounding the issue, regulatory bodies, including the U.S. Food and Drug Administration (FDA), are becoming increasingly concerned about the proliferation and safety of raw and unpasteurized juice and calling on many brands to begin using HPP, or an alternative form of processing, in order to deliver a safer product to consumers.
"People come to me and say, 'I am being told by the FDA to do something,'" Longfield said.
Nevertheless, Longfield expressed optimism that new facilities in planning, including one that she said will focus on working with smaller-sized production runs, will help meet the growing needs of cold-pressed juice companies.
GETTING SMALLER, GETTING FAMILIAR
While HPP may be the critical step to reaching a broader set of consumers, cold-pressed juice companies are faced with the fact the high retail prices associated with their products will continue to restrict the brands to a narrow market opportunity. To fully engage the mainstream, brands are following a common path seen in other beverage categories: get smaller and get familiar.
"There's a limited market," Church said. "The top end of the pyramid — that is a much smaller market that's willing to pay a premium. You're not going to get as big a market, for sure. It's not going to be mainstream in the base of that pyramid for $9 [per bottle]. The broad juice market isn't probably going to pay that."
To reach the broader consumer base, Suja and its competitors are rolling out more accessible product lines. Elements, Suja's new line of 12 oz. juice blends, is the company's first step toward mainstream penetration. The line, which Church described as designed for "functional refreshment," debuted with three flavors – 24 Karat, Green Charge and Berryoxidant – each with formulations intended to appeal to more conventional palates (think apples, bananas, oranges and strawberries). Like Suja's primary line, Elements products are USDA Certified Organic and non-GMO verified, however, the drinks come with a significantly lower suggested retail price of $4.99.
"We didn't want to be at the top end of that pyramid permanently; it's a great way to start, and a great way to build your brand," Church said. "But we believe that, with the benefits of HPP, if we're able to offer a range of price, value and quality, that, over time, we can be the next generation of juice."
Church called Elements' $5 price tag "a magical number" for the brand, comparing it to what some consumers are willing to spend daily for a coffee product at Starbucks. The price is also more in line with that of Evolution Fresh juices, which retail for $3 to $7 for a 15.2 oz. bottle, and while Church noted that Suja is aiming to increase market share from competing brands, he believes that the positioning of Elements could attract consumers in other beverage categories.
Of course, Suja is not the alone in its desire to reach a broader range of consumers. One month prior to the launch of Elements, BluePrint introduced a new line of 10 oz. bottles that the company created "to connect with a wider consumer base by offering more options both from a palate and health-driven perspective," according to statement from the company. The line is certified organic and comes in three new flavors for the brand: Carrot Lemon, Kale Apple Lemon, and Orange Grapefruit Lemon.
Although BluePrint made its mark via cleanse-focused positioning, co-founder Erica Huss said the company would not be doctrinaire as to a specific use occasion for the new juices. Instead, BluePrint would encourage consumers to "make a decision for what their needs are." At a suggested retail price of $5.99, BluePrint does, however, propose that the product would be a good fit for consumers as an on-the-go beverage or meal pairing.
Both Elements and BluePrint's 10 oz. line will be sold exclusively at Whole Foods for an undisclosed period of time, an increasingly common arrangement for new cold-pressed juice products. But while the natural retailer has been vital to the growth of both brands, their quest to attract new consumers could be stunted with the recent news that Starbucks will expand distribution of Evolution Fresh products to Whole Foods stores nationwide.
Facing off against Starbucks will be no easy task, especially considering the company's $70 million investment of a new juicing and manufacturing plant (which includes a number of HPP machines) in Southern California. The facility is scheduled to open later this year and will enable Evolution Fresh to process approximately four to five times the amount of juice per year as its current facility. Combined with the distribution muscle of the coffee giant, Bruzzo believes that Evolution is significantly better positioned than competing brands to take advantage of growing awareness and adoption of cold-pressed juices.
"We believe that our mission is about trying to get really healthy fruit and vegetable juice into the hands and into the bodies of as many people as possible," Bruzzo said. "And we're in a position to really lead the category of cold-pressed juices, which we believe is the future of juice."