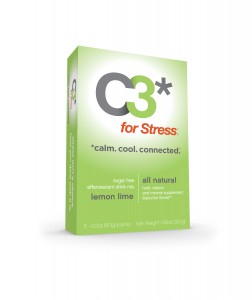 From the Founders of the Famed Elixir Tonics & Teas, C3* for Stress Helps You Stress Less and Accomplish More
LOS ANGELES, CA–(Marketwire – Nov 30, 2011) – More than eight out of 10 Americans anticipate stress during the holiday season, according to the American Psychological Association. Now, there's a new way to deal with the holiday madness — C3* for Stress.
New C3* for Stress (www.C3forStress.com) is an all-natural drink mix of botanicals, vitamins and minerals that helps relieve the symptoms of stress and connects you to your natural energy. The result promotes a healthy response to stress, vital since stress-related ailments account for 75 to 90 percent of all doctor's office visitsi.
Five years in the making, C3* was designed and formulated by the founders of Elixir, a successful and hugely popular international herbal products and functional beverage brand, whose Los Angeles flagship store was often frequented by celebrities and praised by media.
"After being in the functional beverage business for 15 years, the one thing we heard over and over again was that people can't spare even a few minutes to slow down," says Jeff Stein, C3* for Stress CEO, co-founder, Elixirs' Tonics & Teas author and founder of the international lifestyle brand Camp Beverly Hills. "They needed something to help them focus on what they must get done and to quickly recharge their batteries. C3* was designed to enable you to perform at your best by conquering the negative effects of stress and allowing you to be more focused and productive when you can't afford any down time."
C3*'s proprietary formula combines centuries-old healing traditions with modern science. The healthful botanicals, including kava root, longan berries, licorice root and milk thistle seed, were carefully selected for their natural calming, replenishing and antioxidant properties. C3* also includes replenishing vitamins and minerals, such as 100 percent of the recommended daily allowances of vitamin C, vitamins B6 and B12, zinc and niacin.
"It's more widely recognized and understood that incorporating the technology of Western medicine with the traditions of Eastern medicine is the true equation for optimum health and wellness, including stress management," says Dr. Daoshing Ni, founder of the Tao of Wellness Center and Yo San University in Southern California. "Traditional Chinese Medicine herbs, like the ones found in C3*, can work in concert with vitamins and minerals to rebalance and restore one's mind, body & spirit."
"One of the main problems physicians like myself see in our practices are patients suffering from health problems that are a direct result of stress," says Dr. Sam Maywood, physician and a recognized expert in stress management and anesthetics. "From headaches, to gastrointestinal distress, to high blood pressure, these symptoms are often a byproduct of being overwhelmed, overloaded, and overworked. Physicians cannot eliminate a patient's stress, but we can provide simple, effective methods for managing it. C3* is a safe, all-natural, and convenient solution to help people cope with stress and lead a more balanced and healthful life."
C3* is conveniently packaged in single-serve packets, so the drink mix can be enjoyed whenever and wherever stress strikes by simply adding four to six ounces of water or juice and drinking the lemon-lime flavored beverage. The gentle formula starts working within 15 to 20 minutes and is stimulant- and sedative-free. C3* is only 15 calories per serving and is safe, all-natural, preservative-free, sugar-free and contains no artificial sweeteners.
"At Elixir, we spent more than a decade creating custom healing tonics and teas, and learning that people want a natural remedy to help provide relief from symptoms they may be experiencing," says Edgar Veytia, C3* for Stress Executive Vice President, Co-Founder and Jeff Stein's partner at Elixir. "After consulting with numerous physicians and Traditional Chinese Medicine experts, as well as speaking to hundreds of people, we developed a product that will help people be more calm, cool and connected when stress strikes."
C3* for Stress is made by Los Angeles-based Chiller Ventures. Perfect for multi-tasking moms, high-powered executives, busy travelers or anyone else who needs to stress less and accomplish more, C3* for Stress is an all-natural drink mix with a propriety blend of botanicals, vitamins and minerals designed to relieve the symptoms of stress and restore one's natural energy. For more information or to purchase, please visit www.C3forStress.com.
i WebMD – Jerome F. Kiffer, MA, Department of Health Psychology and Applied Psychophysiology, The Cleveland Clinic Foundation.