Boxed Water is Better Announces Regional Availability in Albertson's Grocery Stores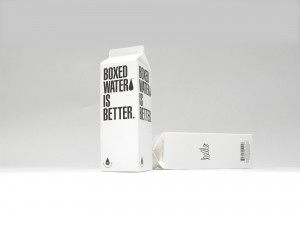 Grand Rapids, MI  (November 7, 2012) – Boxed Water is Better, LLC, announced today, availability in over 60 Alberton's in the Texas market. Boxed Water is Better launched in Michigan in early 2009 and is now available in over 1,000 locations throughout the Midwest, Southern California, New York, Georgia, and Texas. In addition to individual 500ml cartons, Boxed Water is Better is testing a "six-pack" option with plans to roll-out in the next six months.
"We couldn't be happier to partner with such a marquee brand like Albertson's. They've shown incredible commitment to sustainability throughout their entire organization and we are honored by the confidence shown in Boxed Water is Better to be part of that culture." said Kyle Lenkey, Brand Operations.
Boxed Water is Better is currently distributed in the Dallas region through NDS Endeavors
About Boxed Water is Better, LLC
Part sustainable water company, part art project, part philanthropic project, and completely curious. Boxed Water Is Better®, is a boxed water company. Created in early 2009, Boxed Water is Better is run by a small team of young entrepreneurs new to the beverage industry. The company currently has offices in Grand Rapids, Michigan and Los Angeles, California and is currently produced and filled in Holland, Michigan.