Keeper Springs Natural Spring Water Partners With Omni Hotels & Resorts To Support America's Waterways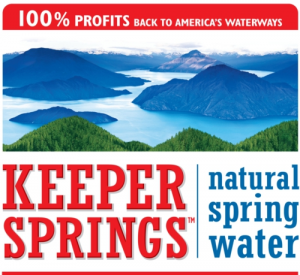 For Each Keeper Springs Sold, Omni to Donate Additional Funding to the Waterkeeper Alliance
DOVER, Mass. and IRVING, Texas, May 23, 2012 /PRNewswire/ — This summer, guests of Omni Hotels & Resorts will have the opportunity to support oceans, lakes, rivers and bays throughout America by simply purchasing Keeper Springs™ Natural Spring Water, which donates 100 percent of its profits to help protect and preserve America's waterways.
Included as part of Omni Hotels & Resorts new "Art of Water" cocktail menu, for each purchase of Keeper Springs, a further donation by Omni will be made to the Waterkeeper® Alliance, a global environmental movement uniting nearly 200 Waterkeeper organizations around the world and focusing citizen advocacy on the issues that affect waterways from pollution to climate change.
"The issue of clean water always moves to the forefront in summer," said Chris Bartle, co-founder of Keeper Springs. "We are thrilled that Omni Hotels & Resorts wanted to partner with us as part of their commitment to sustainability. It's great to see a company who has many properties near some of our greatest waterways give back and make sure our waterways are safe and clean for future generations to enjoy."
Keeper Springs will be available poolside at Omni Hotels & Resorts across the country through Labor Day.
About Keeper Springs
Founded in 1999, Keeper Springs Natural Spring Water was launched by environmental lawyer and advocate, Robert F. Kennedy Jr., and two friends, John Hoving and Chris Bartle, with one mission: to help support, protect and restore our nation's waterways by donating 100 percent of profits to this cause. The brand Keeper Springs is named to honor the keepers of the Waterkeeper® Alliance, environmental heroes who fight to protect waterways all over the world from polluters and degradation. To date, Keeper Springs is proud to have raised more than $1 million to support America's waterways.
Keeper Springs uses only 100 percent natural and sustainable spring water, sourced and bottled locally, and keeps our carbon footprint to a minimum by using LEED-certified bottling plants. In addition, Keeper Springs uses bottles made from 50 percent recycled PET…and is working towards a 100 percent recycled PET bottle. Keeper Springs also supports the most comprehensive recycling legislation and has spent over a decade helping to fight for better regulation, tough penalties and solutions. Keeper Springs is available at beverage retailers on the Eastern Seaboard, and is expanding distribution on the West Coast. For more information, visit http://www.KeeperSprings.com.
About Omni Hotels & Resorts
Omni Hotels & Resorts creates genuine, authentic guest experiences that take guests on "A Total Departure" to 50 distinct luxury hotels and resorts in leading business gateways and leisure destinations across North America. From exceptional golf and spa retreats to dynamic business settings, each Omni showcases the local flavor of the destination while featuring four-diamond services, signature restaurants, Wi-Fi connectivity and unique wellness options. Known for its award-winning, personalized service, Omni leaves a lasting impression with every customer interaction, with a heightened level of recognition and rewards delivered through its Select Guest loyalty program and the company's "Power of One" associate empowerment program. The brand is frequently recognized by top consumer research organizations and travel publications. To get additional information or book accommodations, visit omnihotels.com or call 1-800-The-Omni.