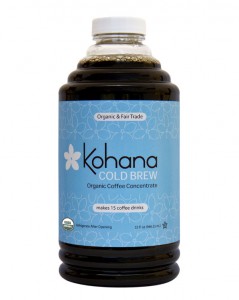 Kohana Coffee introduces first of its kind shelf-stable Cold Brew Coffee to the Market, keeping innovation alive & taking you beyond a cup of coffee!
Austin, Texas (April 16, 2012) – Kohana Coffee announces the introduction of their organic, fair trade "shelf-stable" Cold Brew Coffee Concentrate to the market, the first of its kind in the coffee industry.  The new Kohana Coffee Cold Brew is formulated using an innovative and unique patented technology to create a shelf-stable product.  It is extracted from the finest organic, fresh craft roasted beans without using heat, producing a naturally sweet, impeccably smooth, low acidity, 100% natural coffee concentrate.  This distinctively delightful beverage, with delicate hints of chocolate and a long, clean finish, will leave coffee drinkers and non-coffee drinkers alike wanting more.  Kohana Cold Brew can be served hot or as iced coffee in single servings from a PET recyclable bottles.  More concentrated than most Cold Brew competitors on the market, Kohana's 32oz bottle makes between 12-15 delicious drinks per bottle.
Kohana Coffee's shef-stable Cold Brew product debuted in February 2012 at the Conference and has already hit the shelves of retailers including Whole Foods Markets (Southwest, South Pacific and Northern California Regions), Central Markets (all Texas locations), as well as other fine retailers domestically and internationally.  This launch is projected to result in a 50% growth locally and 40% growth nationwide for Kohana.  Whole Food Market's and Central Markets move to invest in the woman-owned and operated coffee business will further diversify the popular retailers' offerings.  Included in the product line will be an organic 32oz bottle of Kohana Cold Brew, "512" espresso drink and other 16oz bottle offerings including: Mocha Java, French Roast and Vanilla Nut.
"People want to enjoy fresh, high-end coffees but are limited by the 'convenience' of their environment," shares Kohana Coffee Founder Victoria Lynden. Many find it wasteful to brew an entire pot of coffee for just one person and prefer a coffee that it is smooth and with less acidity, which is overall healthier.  With this in mind, Kohana Coffee's Cold Brew will join Kohana's award winning craft roasted specialty coffees as their first ready-to-drink coffee beverage.
Additionally, a partnership between Kohana Coffee, and two local favorites, Thirsty Planet Brewing Company and Franklin BBQ, has been formed to create a local brewed beer (The Jittery Monk Smoked Coffee Dubbel).  Kohana Coffee roasted beans smoked by Aaron Franklin of Franklin BBQ (voted Best BBQ Restaurant in American by Bon Appetite Magazine), cold brewed by Kohana Coffee and mixed with the Belgian Dubbel by Thirty Planet Brewing Company.  With the recent attention Austin, TX has been receiving for its culinary achievements, Kohana Coffee couldn't pass up the opportunity to work with Aaron Franklin and Jake Maddux on this project – It's the perfect marriage of innovation and flavors, with the Cold Brew showering your palette with a savory smoky chocolate finish.
About Kohana Coffee
In 2007, Victoria Lynden was inspired to bring the taste of Hawaii to the Mainland after a visit to Oahu. Since then, her company, Kohana Coffee has been dedicated to slow roasting 100% Specialty Grade Coffee Arabica beans sourced directly from farmers and leading importers around the globe who share their vision. Kohana is available in Whole Foods, Central Market and varying cafés, bakeries, restaurants across the country and online at KohanaCoffee.com. Like them on Facebook.com/KohanaCoffee and follow them at twitter.com/KohanaCoffee.