Flavrz Organic Beverages Introduces New Packaging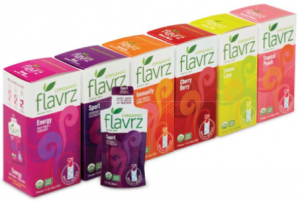 October 9, 2013  — Flavrz Organic Beverages LLC is excited to announce the re-launch of the Flavrz2Go organic drink mix product line with a complete packaging update.   Bolder colors and a cleaner design provide consistent brand identity and a "can't miss" shelf presence.  In addition the redesign simplifies the product message for consumers – organic, healthy, easy to use and convenient.
"Shortly after taking over the company we heard from many retailers that the packaging was not nearly as good as the product. We took that to heart and got to work on the refresh and we could not be happier with the result. We were very lucky to have the Shear Partnership take us on as clients and they exceeded all of our expectations." says Valli Baker, President  & Owner of Flavrz Organic Beverages LLC.
Adds Steve Baker, COO, " during June and July we engaged over 50,000 consumers with samples. The overwhelmingly positive feedback really convinced us that the product deserved new packaging equal to the quality of the product".
Flavrz2Go are one ounce pouches of organic liquid drink mix that the  consumer mixes to taste with twelve to twenty ounces of water. All of the products are organic, non-GMO, gluten-free, low sugar, low calorie and when used with reusable water bottles, environmentally friendly. There are six varieties of Flavrz2Go – Sport with electrolytes, Energy, Immunity, Cherry Berry, Lemon Lime and Tropical Peach.
For more information please contact Valli Baker  valli@flavrzorganics.com  203-969-5533