Karma Culture LLC Launches New Marketing Campaign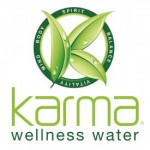 PITTSFORD, N.Y. — Karma Culture LLC recently launched a comprehensive consumer marketing campaign focused on raising awareness of Karma Wellness Water, increasing trial of the product and spreading good karma.
The creative portion of the campaign, titled "Transform Yourself," includes fresh consumer ads that will be served to a targeted audience.  Included are print ads and digital media on platforms such as Pandora, health and beauty blog networks and geo-targeting on mobile devices. Targeted national media-relations and product-placement initiatives also support the program.
Additionally, the campaign includes a corporate-citizenship program aimed at encouraging people to spread good karma. "Random Acts of Karma" involves a grassroots effort that engages product ambassadors randomly performing acts of good karma and encouraging recipients to pass it on.
Teams equipped with Karma Wellness apparel have infiltrated some major cities in the East such as Boston and Philadelphia, paying for fitness classes, covering the cost of family activities and doing other random acts of karma, while encouraging the "Good Karma" recipients to keep the movement going.  Participants are encouraged to share their experiences on social media through Facebook and Twitter, where the hashtag #RandomActsofKarma tracks the acts of goodwill. Brand reps continue to keep a steady flow of positive and health-focused content posted on both Instagram and Pinterest. The initiative also directs recipients to a designated "Random Acts" landing page.
"We believe that if you do something positive, you'll get something positive in return," said CJ Rapp, CEO and co-founder of Karma Culture LLC.  "The whole notion of pay-it-forward is true to Karma's DNA.  Who better than Karma to promote good karma and acts of kindness?"
Karma Continues Successful Expansion
Retail availability of Karma continues to expand; and sales of Karma are strong.  Karma is available nationwide in Canada through its partnership with Lassonde.  Recent retail wins in Canada include Costco, Metro, Couche Tard, Shell and Macs.  In the U.S., Karma now has more than 120 distributors servicing all or part of 25 states.  Newly secured wins at retail include Shaws, Weis Markets, Harris Teeter, Fairway Market, Roundy's, Holiday Stations, Pantry, Sunoco A-plus, Quick Trip and Circle K.
Karma offers several strengths.  Among them are a great name, best-in-class cap, experienced management and an unsurpassed commitment to excellence.
About Karma Culture LLC
Karma Culture LLC, based in Pittsford, N.Y., is a manufacturer of naturally enhanced, flavored spring water. The company was co-founded in 2011 by beverage industry veterans and innovators CJ Rapp and Jeff Platt. Working with an expert management team, including Lowell Patric, chief financial officer, and Darren Coon, an engineer with expertise in innovation and design, the company's Karma® Wellness Water provides unprecedented levels of vitamins and nutrients in a mix-to-drink form. The line includes five functional varieties, each meticulously formulated to deliver distinct wellness benefits for mind, body, spirit, balance and vitality. Karma was born from the universal truth that if you do something positive, you'll get something positive in return. It meets the needs of people with active lifestyles who are looking to make good choices that will positively impact their health. For more information about Karma Wellness Water, visit www.drinkkarma.com.