Roaring Lion Launches 'Music Madness' Contest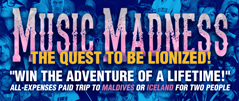 SUN VALLEY, Calif. — Roaring Lion energy drink is giving their fans a chance to win the 'adventure of a lifetime' to their choice of either the Maldives or Iceland as the Grand Prize for their "Music Madness" contest (running from 3/22/13 through 4/8/13), as they seek to determine which Artist/Band is most worthy of being Lionized as a true 'Roaring Lion' in the music world by means of fan participation in daily polls. Entrants must submit their completed Tournament Brackets to MusicMadness@RoaringLion.com by Friday, 3/22 at 12pm PST.  More information and official contest rules are available at www.fb.com/RoaringLionEnergyDrink.
As a play off the March Madness Collegiate Basketball Tournament, "Music Madness" is comprised of 64 Musical Artists & Bands that are broken down into four 'conferences' based on a selection of Roaring Lion's brand values:  Innovative, Non-Conformist, Smart & Humorous.  Starting on Friday, 3/22, Roaring Lion will be posting Daily Polls on Facebook and their website (www.RoaringLion.com) for Fans to vote on the head-to-head matchups.  The winners of each round will be announced before the next round of voting begins.  The Finals will be hosted from 4/6 – 4/8, syncing with the March Madness Finals, and the Winners will be announced on Tuesday, 4/9.
Roaring Lion fans will have the chance to win several prizes depending on how successful they are in picking the Winners in the "Music Madness" Bracket.  If an entrant correctly chooses every Winner in the bracket, they will have the choice of all-expenses paid trips to either the Maldives or to Iceland for 6 nights/7 days.  If a fan correctly chooses all of the Artists that make the 'Sweet 16' round, they will win a mixed case of Roaring Lion 16.9oz Bottles (24) + a Roaring Lion "Safari Kit".  For anyone who correctly chooses all of the Artists that make the Final Four, they will win a 4-pack of Roaring Lion bottles & a "Safari Kit".  Those fans who choose the correct Winner will receive a Roaring Lion "Safari Kit".
Participants must be at least 18 years old and a resident of the United States.  Entries via e-mail should include the completed Tournament Bracket and entrant's full name, date of birth, complete address, & phone number.  Full contest rules are available on RoaringLion.com or Roaring Lion's Facebook page.