Pulse Beverage Announces Increased Manufacturing Capacity Through Two Co-Packers in Virginia and Texas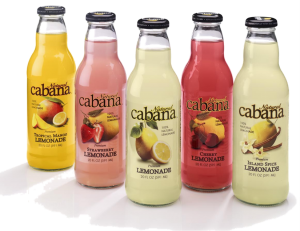 DENVER, CO–(Marketwire – Oct 24, 2012) – The Pulse Beverage Corporation (OTCQB: PLSB) ("Pulse"), makers of Cabana™ 100% Natural Lemonade and Pulse® brand of functional beverages, today announced that it has produced Cabana™ 100% Natural Lemonade at Trinity Bottling Company, LLC based in Marion, Virginia and will begin production of its Pulse® brand of functional beverages there in late November.
Trinity Bottling Company, LLC is a high quality, "Green Facility" co-packer specializing in functional beverages and is Organic Certified and Kosher Approved. Trinity has the lowest carbon footprint of any hot fill facility in America and is located within 700 miles of 60% of the USA population, within one day freight to major markets and ready access to port shipping facilities.
Pulse has also come to an agreement to start production of Cabana™ and Pulse® in January, 2013 at Precision Formulations, LLC, a Dallas, Texas based co-packer conveniently located near the Dallas/Fort Worth International Airport and major transportation lines with direct access to the Mexican marketplace. Precision will serve customers within an 800 mile radius of Dallas, Texas.
Bob Yates, CEO of Pulse, said, "These two co-packing facilities, together with our co-packer in Portland will allow us to produce our products for all of North America and overseas. All three facilities are very efficient and have the highest quality control procedures in the industry. Our growing distribution network is approaching national coverage. With additional production in Virginia and Texas we can now produce and deliver our products into Eastern and Southern USA very cost effectively and efficiently. Our Dallas, Texas based co-packer will be able to produce for delivery into Mexico, a pending territory and as far west as Colorado/New Mexico and as far east as Florida/Carolinas and as far north as Kansas."
About The Pulse Beverage Corporation
The Pulse Beverage Corporation is an emerging growth beverage company that manufactures and distributes Cabana™ 100% Natural Lemonade and is preparing to "red carpet" its flagship product Pulse® brand of functional beverages, originally developed by a major healthcare company, in three health platforms: Pulse® Heart Health Formula™, Pulse® Women's Health Formula™ and Pulse® Men's Health Formula™. For more information visit: www.pulsebeverage.com or email info@pulsebeverage.com.