Growth, Branding, and Social Networking Highlight Brewbound Craft Beer Session
By Chris Furnari
Brewers face a wide range of decisions on a daily basis – and industry experts at the Brewbound Craft Beer Session held earlier this month didn't hold back on the financial or personal risks those decisions can have, describing both lessons that cost $5 million to learn and long-range sales strategies gone terribly awry.
But with more and more craft companies joining the category, and existing brewers feeling a huge pull from increased consumer and retail demand, the overall mood at the event reflected beer's rising profile. With every seat jammed and a live feed pulling in eager viewers who couldn't get to New York for the Craft Beer Session, there was an enthusiastic audience for the strategies, personal success stories and ideas for handling the challenges of growth that came from presentations by the most important players in the craft business.
Underlying much of the day's discussion was the sense that the category's continued maturation and growth may become as big an issue for the experts as it has become for emerging brewers. There was a growing sense that between capital constraints and new capacity coming online, there will be a lot of wrestling for consumer loyalty.
For example, Steve Hindy, the president and co-founder of Brooklyn Brewery, told the audience that he believes 10 million barrels of new capacity is currently being built out. That includes major east coast expansions from Sierra Nevada, New Belgium, and Oskar Blues, as well as roughly 1000 new craft breweries currently in the planning phases.
"That's a big deal and it's a big risk," he said. "Not everyone is going to win. There will probably be some spectacular winners and losers."
Magic Hat founder Alan Newman shared similar sentiments during his presentation on the critical decisions made with Magic Hat that led to the company's success. When asked what he wished he had known while growing the brand, Newman replied: capacity utilization.
"It cost me $5 million to learn," he said.
Recalling something he'd heard from Anchor Brewing Founder Fritz Maytag, Newman explained the struggle most craft brewers face when dealing with both capital and capacity concerns.
"He (Maytag) said that most people think that growing a business and capital needs go in this nice growth curve," Newman said. "They don't. There are steps. You invest in capital, then you ride that capital, then you invest again.
So how do capital and capacity relate? According to Newman, "you have to manage your capacity because that is where your cash comes from. And without cash you can't invest in your business. If you can't invest in your business, you won't grow."
Growth, of course, hasn't been hard to achieve for craft overall – but the rapid pace of growth over the past half-decade led to another theme for the day: is there a "bubble" for craft beer, and if so, when does it burst?
"We are definitely in a time of irrational exuberance, aren't we?" said keynote speaker Greg Koch, the CEO and Co-Founder of Stone Brewing Co. "The bubble might burst by simply slowing down – and that is fine."
While a major rejection of the ethos behind craft – or a sharp decline in the quality of brands calling themselves "craft" – would severely hamper to the overall success of the craft category, for individual brands, growth can also become a hazard instead of an opportunity. Adam Lambert, the VP of Sales for Dogfish Head, said that new brands should also be very cautious and not over-commit when growing distribution into broader retail channels such as grocery and convenience.
"Last year we (Dogfish Head) were facing some capacity challenges and strong demand challenges so we went to our largest retail buyer and asked to be removed from 200 stores," he said. "We knew that we could better service his other 100, with volume day-in and day-out and no out of stocks."
Still, for most new beer companies, growing to the size of a Dogfish Head will depend on their ability to extend their brand. Both Koch and Newman said that finding an authentic identity will continue to determine whether or not a brand makes it.
"You have to have a vision for what your brand stands for and you have to be able to communicate that vision to a group of people without really being able to touch them and feel them," Newman said.
Mike Schneider, Senior VP of the marketing firm Allen & Gerritsen, elaborated during his own brand strategy presentation.
"The company's identity is brand," he said. "It determines the way that your company communicates."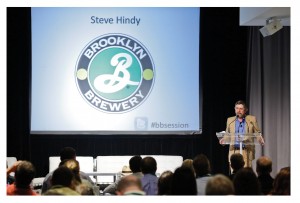 And if you aren't thinking about your brand, Schneider added, then you shouldn't be communicating – because those messages all impact your brand.
"All of the messages you are putting out right now," he added, "some of those become your brand and you don't know what that is."
One of the ways brewers can communicate that vision is through social networks like Twitter and Facebook. Greg Avola, the co-founder of Untappd, spoke about the importance of social networking as a way to connect with consumers.
"Users want to be engaged," he said. "They want to know who is behind the beer you are making. When those kinds of things come across, the users feel more connected to you and are more likely to buy your products."
Jim Schembre, the general manager of fast-growing craft distribution network World Class Beer, echoed Avola's words, and explained his company's vision for connecting consumers, retailers and brewers through online social networks.
"If you don't satisfy consumers, craft brewers and wholesalers lose," he said. "We want our wholesalers, consumers and suppliers to understand that everything we do at World Class Beer is consumer driven."
Schembre explained how World Class Beer looks to market directly to consumers with the hope of impacting their choices. It's why they launched "Beer Spy," a beer finder with accurate and up-to-date information on how consumers can locate new products.