Coco Libre Launches Ad Campaign in New York City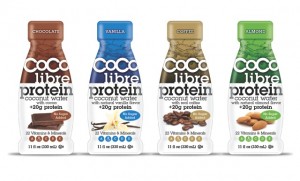 Coco Libre, an emerging leader and innovator in the certi­fied organic coconut water category, is running a series of ads on kiosks throughout the city of New York. The ads play on some controversial issues like marriage equality, healthcare, and Mayor Bloomberg's proposed soda ban.
"The company campaign hopes in a fun tongue and cheek way, to provoke positive discussion on serious issues from healthcare to Mayor Bloomberg's campaign against sugary beverages to marriage equality" says company founder and CEO Mark Shaw. "I started this company because my father had one of the ­first triple bypasses in the early 70's. The hospital sent a nutritionist to our home and I learned back then, in my opinion, how hard it was to ­find good tasting healthy food products. Food labeling didn't exist, there was lots of corn syrup and hydrogenated fats were in food. I vowed to get in the food industry, learn it and one day build a healthy food company. We don't preach, we're just trying to give consumer options for great tasting "better for you" beverages. Great tasting can be healthy. Everyone has a father, mother, uncle, or aunt whose health problems were connected to unhealthy eating. In a small way, we hope to contribute to peoples lives one sip at a time."
New Yorkers will begin seeing the ads on multiple kiosks throughout the city starting this week. The ads will be strategically placed near retailers like Whole Foods and Food Emporium that currently carry Coco Libre products.
About Coco Libre
Founded in 2010 by Mark Shaw, Coco Libre was the ­first certified organic bottled coconut water and is sourced from young green coconuts grown without pesticides on sustainable farms in the South Pacifi­c. Coco Libre Organic Coconut Water is available in two flavors, original and pineapple. Both flavors are available in 11oz PET bottles and in 1 Liter Tetra Paks. Coco Libre Protein launched at this year's Expo West in Anaheim and is available in 11oz PET bottles. Each bottle has 20 grams of protein, 4 electrolytes, more potassium than a banana, and has no sugar added. Coco Libre Protein is available in four mouthwatering flavors: Almond, Vanilla, Chocolate, and Coffee.